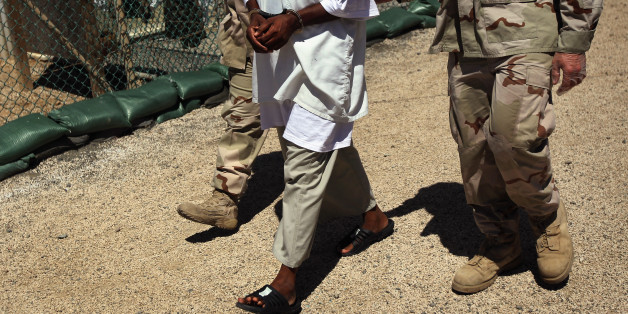 The American Civil Liberties Union and other human rights groups on Monday called on Defense Secretary Chuck Hagel to halt the force-feeding of hunger-striking Guantanamo detainees.
In a letter addressed to Hagel, the organizations describe the process being used to deliver nutrients to 29 of the 100 prisoners who are currently protesting by not eating:
The force-feeding process is inherently cruel, inhuman, and degrading. The prisoner is strapped into a chair with restraints on his legs, arms, body, and sometimes head, immobilizing him. A tube is inserted up his nostril, and snaked down his throat into his stomach. A liquid nutritional supplement is then forced down the tube. The prisoner is restrained in the chair for upwards of two hours to prevent him from vomiting. As Guantánamo hunger-striker Samir Naji al Hasan Moqbel explained recently: "I can't describe how painful it is to be force-fed this way. As it was thrust in, it made me feel like throwing up. I wanted to vomit, but I couldn't. There was agony in my chest, throat and stomach. I had never experienced such pain before." 1 Debilitating risks of force-feeding include major infections, pneumonia, collapsed lungs, heart failure, post-traumatic stress disorder and other psychological trauma.
Military officials confirmed the controversial process on Monday, saying that they had been managing the hunger strikers in that manner since March.
The letter went on to claim that the military's handling of the hunger strike violates the Geneva Conventions and could be considered "torture" under some treaties. It also asked Hagel to investigate and to rectify any "abusive conditions and treatment" outside of the hunger strike.
As of Monday, five of the 29 detainees being force-fed were being treated in the hospital. As HuffPost's Ryan J. Reilly reported in April, many of the hunger-strikers have turned to this extreme form of protest because they don't have any other options and feel they will die in the facility:
Eleven years after the first prisoners arrived at Guantanamo, 166 remain, with no end in sight. More than half -- 86 -- have been cleared for transfer to other countries, but the process has been snarled by a mix of congressionally imposed restrictions and executive branch inaction. Even if President Barack Obama did have the power to close Guantanamo unilaterally, doing so would not necessarily mean that the detainees would be set free in other countries. William Lietzau, the top detainee policy official at the Pentagon, told The New York Times recently that he doesn't believe the number of detainees being held without charges would "change radically," even if legislative restrictions were removed.
President Barack Obama addressed the hunger strike at a press conference in April, saying that he didn't "want these individuals to die." He went on to maintain that he still wants to close the prison, a goal he promised to accomplish during his first year in the White House. As critics have noted, however, Obama has not even used the powers he has to scale back the number of prisoners held at Guantanamo.
BEFORE YOU GO
PHOTO GALLERY
Inside Guantanamo's Prison Facility