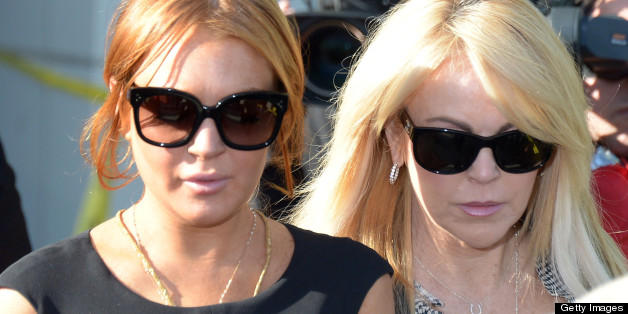 Dina Lohan says her daughter Lindsay is "happy" in rehab at the Betty Ford Center, but other reports claim the troubled starlet already wants to leave.
"I just spoke to Lindsay at Betty Ford. She's doing great," Dina told the New York Daily News on Mother's Day about her daughter's progress. "She's clear, she's happy, she's healthy."
Dina shot down allegations the "Liz & Dick" wants to ditch the Rancho Mirage, Calif., center.
"I don't know who's saying that. It's so evil. Lindsay will do what she has to do," the 50-year-old added. "She just needs to breathe and find out who she is again. And she's going to stay there and do that."
Still, TMZ reports Lindsay wants out of Betty Ford because she is reportedly prohibited from taking Adderall while serving her 90-day sentence. (She was previously prescribed Adderall for her Attention Deficit Hyperactivity Disorder, but doctors at Betty Ford think there are far less addictive medications she can take to alleviate the ADHD symptoms, according to an earlier report.)
The 26-year-old has reportedly found another rehab center to transfer to, but prosecutors won't hear it.
"She had 45 days to find a suitable place," a source told TMZ. "She didn't listen to her people and just did what she wanted so it's her problem now. Not gonna happen."
Before checking in for her sixth rehab stint, Lindsay described her five prior stays as "pointless" and a "joke" in a interview with Piers Morgan.
"I look at it as a good thing," the actress, who insists she isn't an alcoholic, told Morgan in an interview for the Daily Mail. "I can come back afterwards and be fully focused on work. But I think there are other things I could do instead of going to a rehab center that would benefit me more. The best thing they could do for me would be to make me go abroad to different countries and work with children."
In March, Lindsay was sentenced to 90 days in lockdown rehab, 30 days of community service and 18 months of psychotherapy related to charges of reckless driving and lying to the police stemming from a June 2012 car accident.
BEFORE YOU GO
PHOTO GALLERY
Celebrities Who Have Battled Addiction