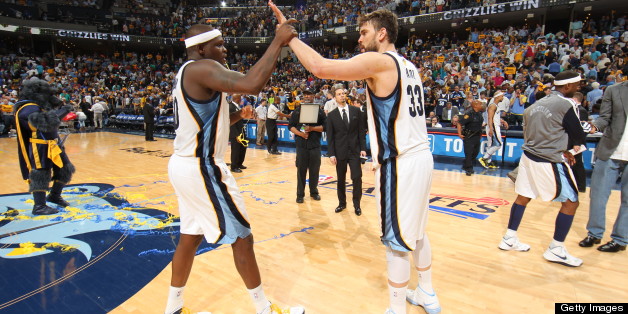 When the Memphis Grizzlies traded the extraordinarily talented Rudy Gay to Toronto midseason, the organization was presumably building for the future and, in a sense, mortgaging away this season.
Three months later, however, it's an improved Memphis team with the rarest of modern-day NBA offenses -- an offense that runs through the block. While post-up situations accounted for fewer than 7 percent of Oklahoma City's offense this season, forward Zach Randolph and center Marc Gasol -- both equal parts enormous and enormously skilled -- were the main reasons why the Grizz used the post-up for more than 15 percent of its total offense, per Synergy Sports.
With Memphis up 2-1 in its playoff series against Western Conference no. 1 seed Oklahoma City, one can surely point to the absence of injured Thunder superstar Russell Westbrook, but that would detract from the incredible efforts of the two Memphis bigs.
Randolph, wide-bodied with an insatiable appetite for the glass and soft touch in and around the paint, is averaging 18.4 points in the playoffs and more than 9 rebounds in this series. Gasol, the league's Defensive Player of the Year, hovers near 19 points with his trademark passing from both the high post and the low block. His 4 assists per game against OKC have driven the Thunder's Serge Ibaka and Kendrick Perkins to the brink of frustration because Gasol is just as lethal operating against the double-team as he is in solo coverage.
The typical modern-day NBA offense often resorts to one of two things at the end of a shot clock: either a pure guard isolation or a ball screen 25 feet from the hoop. Memphis certainly does this, but the beauty of this team's offense is that everything is geared toward the two stellar big men. And, because both are so wonderfully skilled, the challenge for even the most athletic of teams like the Thunder, is to guard them in every spot on the floor.
Of course, the theory about the Grizzlies remains that they simply wear opponents down defensively with a combination of toughness, crisp rotations and sheer force. They don't have shooters and don't thrive in transition, either. The team finished the regular season 21st in field goal percentage and 24th from 3-point range.
But what Memphis head coach Lionel Hollins has figured out -- and what Lakers coach Mike D'Antoni clearly has not -- is that defending one elite big man for a prolonged series is quite a challenge. Two though, can be nearly impossible, particularly when the entire offense runs through them. And the Thunder has found this out the hard way.
Email me at jordan.schultz@huffingtonpost.com or ask me questions about anything sports-related at @Schultz_Report.
BEFORE YOU GO