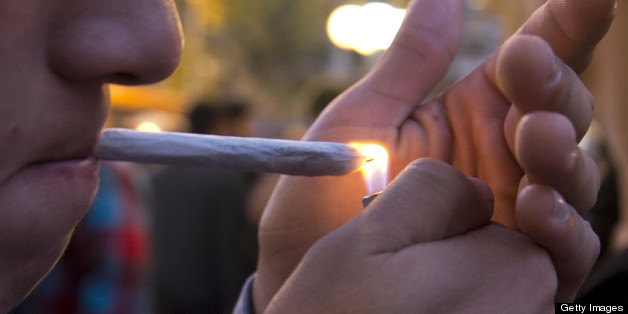 Efforts to decriminalize marijuana in New York City-- the pot arrest capital of the world-- seem to be paying off.
The New York Post parsed data from the State Division of Criminal Justice Services to find that arrests for small amounts of weed are on pace to drop 20 percent in 2013.
Marijuana possession in 2013, however, still remained the number one reason for an arrest in New York City.
In 2012, arrests for small amounts of bud dropped 22 percent to 40,661 from 52,220 in 2011.
In NYC, possession of 25 grams or less of marijuana shouldn't result in arrest unless it's "burning or in public view."
The NYPD, however, often asks the hundreds of thousands they stop on the streets each year (87 percent of whom, in 2011, were black or Latino) to empty their pockets. When the marijuana comes out of the pocket, it becomes "in public view," and they can make an arrest.
Pot can also come into "public view" during a stop and frisk.
Citywide, the number of police stops dropped by 22 percent in 2012.
Additionally, NYPD Commissioner Ray Kelly told cops last year that, "A crime will not be charged to an individual who is requested or compelled to engage in the behavior that results in the public display of marijuana."
Kelly was responding to mounting criticism over the skyrocketing number of marijuana arrests over the last decade. From The Drug Policy Alliance:
[From 2007-2011], the NYPD under Bloomberg has made more marijuana arrests (2007 to 2011 = 227,093) than in the 24 years from 1978 through 2001 under Mayor Giuliani, Mayor Dinkins, and Mayor Koch combined (1978 to 2001 = 226,861).
From 2002 to 2012, The NYPD spent 1 million hours making 440,000 arrests for low-level marijuana possession charges, according to another report from the DPA and Marijuana Arrest Research Project, released in March.
This past February, Mayor Michael Bloomberg announced that those arrested in New York City for possessing small amounts of marijuana would no longer have to spend a night in jail. Rather, they'd be issued a desk ticket with a fine comparable to a parking ticket.
And in January, New York Governor Andrew Cuomo proposed decriminalizing quantities of marijuana under 15 grams. As the Post notes, had Cuomo's plan been under effect last year, it would have nullified 39,257 of the 40,661 low-level marijuana arrests in New York.
BEFORE YOU GO
PHOTO GALLERY
Stop And Frisk Goes On Trial In NYC