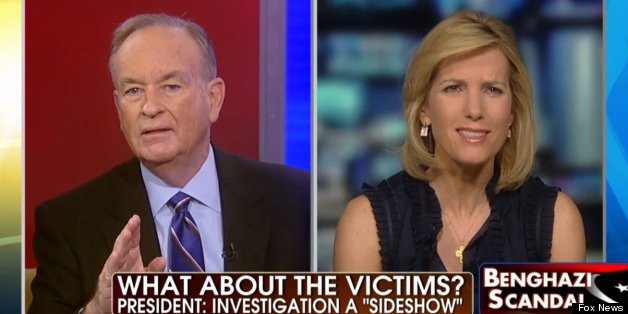 Bill O'Reilly and Laura Ingraham got into a heated debate on Tuesday over revelations that the Department of Justice secretly obtained months of Associated Press phone records.
The revelations surfaced Monday afternoon, stirring outrage from journalists. The hosts of "Fox and Friends" spent time criticizing Obama over Benghazi as well as the AP controversy on Tuesday morning.
O'Reilly, however, claimed that the AP controversy "isn't a scandal," arguing that it is not yet known how the DOJ obtained the records. The assertion stunned Laura Ingraham, who countered that there was indeed "a scandal" brewing.
She said that she did not understand why O'Reilly was giving Attorney General Eric Holder and the Obama administration "the benefit of the doubt." She rolled her eyes at O'Reilly's insistence that he was right.
He said Benghazi was the "big-time story" that people should focus on. O'Reilly opined that Obama's critics have failed to nail the president down because they are accusing him of too many things. "AP, not a big-time story. Concentrate on what we know," he instructed.
The Obama adminstration faced an intense grilling about the DOJ's actions on Tuesday. White House press secretary Jay Carney denied that the White House had "knowledge other than press reports of any attempt by the Justice Department to seek phone numbers of the Associated Press."
BEFORE YOU GO
PHOTO GALLERY
Faces of Fox News