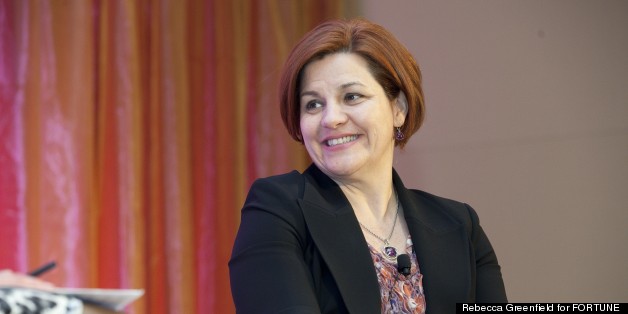 City Council Speaker and Democratic New York City mayoral candidate Christine Quinn appeared at Fortune Magazine's Most Powerful Women event on Monday and assured the audience that she was unperturbed by news reports detailing her "pushy" personality.
At an event which Fortune Magazine called a taste of the publication's upcoming annual Most Powerful Women Summit (scheduled for October 2013 in Washington D.C.), the title hosted a dinner at the Time Warner Conference Center on Monday featuring the likes of Goldman Sachs Foundation president Dina Powell, CBS News' Lesley Stahl, NBC Universal's Lauren Zalaznick, and CNN's Christiane Amanpour, who also spoke during the program.
The audience also included female professionals from around the world who were accepted into the Fortune/U.S. State Department Global Women's Mentoring Partnership.
Quinn, the first openly gay mayoral candidate in New York City's history, has appeared at mayoral forums around town in recent months and been met with boos and heckles from city voters who, among other things, oppose her support for Mayor Bloomberg's (and her own) third term. Unsurprisingly, those reactions were nowhere to be found at the Time Warner Center on Monday night.
As the evening's keynote speaker, Quinn joined Fortune's senior editor-at-large Pattie Sellers in conversation to discuss the City Council speaker's candidacy for mayor of New York City.
Quinn seemed unfazed by the front-page New York Times article, which came with the headline, "Offstage, a Proudly Brash Quinn Isn't Afraid to Let Her Fury Fly". The piece detailed the reportedly aggressive and at-times unforgiving personality she displayed while on the job.
Sellers listed off the various adjectives used to describe Quinn in the March 2013 article. "Controlling, temperamental, volatile ... brassy, aggressive," as well as those qualities Quinn self-described as "pushy, bitchy and tough."
"Are you comfortable with all those words?" Sellers asked.
"Pretty much," Quinn deadpanned to applause. She added that New Yorkers, who woke up with the kind of tough personality she often displayed, deserved the kind of New York City mayor who would exhibit the same attitude.
"I get that can be challenging at times," Quinn said, acknowledging that one need not be "a raving, lunatic bitch" at all times. But she insisted that she would be far less effective in her job if she spent more time thinking about what she was doing instead of moving into action.
BEFORE YOU GO
PHOTO GALLERY
2013 NYC Mayoral Candidates