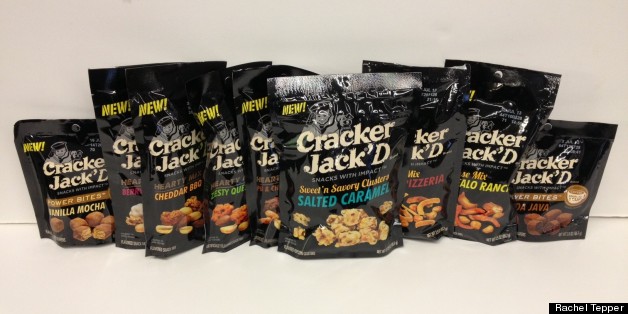 The new Cracker Jack'd line from Frito-Lay, which seeks to put a new spin on the classic Cracker Jack treat, hit stores last month and we were curious to sample its many offerings.
With a jet-black packaging and the tagline, "Snacks with Impact," the line seems decidedly more masculine than its ballpark predecessor. The "fueling up" aspect is hit home with a fuel gauge icon on some of the line's products, set to "Fills You Up." There's also the caffeinated punch of the line's Power Bites, which come in Vanilla Mocha and Cocoa Java.
The Power Bites, which prompted concern from food activists when news of the line broke last year, are crunchy, marble-sized wafers covered in chocolate. They have a coffee punch -- each serving, a single bag, packs the same caffeine as a cup of coffee. Most HuffPost editors did not care for the flavor. "Chalky, cheap chocolate," one editor said. "Dry, terrible cookie. One of them looks like coal."
The granola cluster and nut-filled "Hearty Mixes," which come in the flavors PB & Chocolate, Berry Yogurt, Cheddar BBQ and Zesty Queso, also generated mixed reactions. The savory granola in the latter two particularly struck some editors as odd. "Cheddar-flavored granola? It's weird, because the granola has a sweet aftertaste that jars with the fake cheesy flavor," remarked one editor. Another disagreed. "Weirdly enough, my two favorites are the two I was most afraid of: the savory granolas," she said. "They've got a clearly artificial flavor, but they're zingy, salty and have a great crunch."
The "Intense Mix" offerings, which come in Pizzeria and Buffalo Ranch, were uninspiring but inoffensive. Neither tasted much like what their names suggest, but editors agreed they were easy enough to nosh on.
The best of the bunch were the Sweet 'n Savory Clusters, which are the line's offering most reminiscent of the original Cracker Jacks. These, though, are saltier -- most editors enjoyed their first few bites, but found the flavor overwhelming afterward. Still, there was something addictive about them that had us reaching back into the bag.
Strangely, the Sweet 'n Savory clusters are the only offering to feature a resealable bag. With the exception of the Power Bites, all the line's other items are packaged with up to three and a half servings per bag, which when coupled with the "fueling up" message might encourage overeating.
On the whole, we were unimpressed with the Cracker Jack'd line. Give us the original Cracker Jack caramel-coated popcorn and peanuts any day.
BEFORE YOU GO
PHOTO GALLERY
Caffeine Content