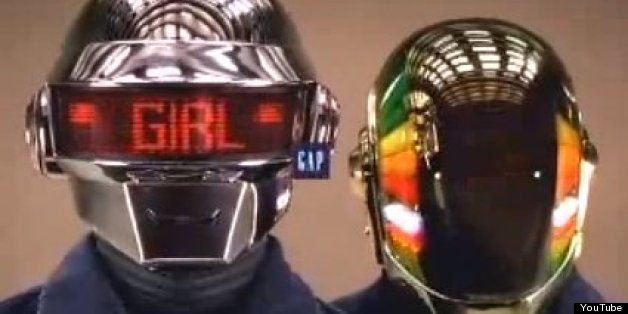 A low-quality version of Daft Punk's highly anticipated comeback album "Random Access Memories" leaked yesterday, prompting a rash of excited tweets and a flurry of downloads. Shortly thereafter, a free (and authorized) stream of the album hit iTunes.
As the new songs permeate culture (look for plenty of discussion of the epic "Giorgio by Moroder" and expect to hear tunes like "Lose Yourself to Dance" and "Doin' It Right" blasting from car windows near you), take a moment to acquire some Daft Punk trivia to regale your friends with. NME posted a handy slideshow of 30 facts about Thomas Bangalter and Guy-Manuel de Homem-Christo, and we've picked a few to share here. For the full list, head over to NME.
Music is in their blood. Bangalter's father, Daniel Vangarde, wrote and produced "D.I.S.CO." for Ottawan and "Cuba" for the Gibson brothers.
David Bowie once called the duo to personally request they remix one of his songs. They declined.
Just how long has it been since they last allowed their faces to be photographed? Their no-unmasked photo policy goes back to 1996.
They took the name "Daft Punk" from a review that described their song "Cindy, So Loud" as "daft punky thrash."
They were in a Gap ad once. Watch it here.
They've had non-Daft Punk hits. Bangalter's 1998 single, "Music Sounds Better With You," was a breakout for his side project, Stardust.
"Random Access Memories" is 74 minutes long, the length of a standard CD.
de Homem-Christo is said to descend from a famed aristocratic family.
They are huge Barry Manilow fans.
Robots weren't their first costumes. They used to use a variety of masks, including some shocking Beavis & Butthead get-ups.
There are also plenty of fresh facts that are worth considering when listening to "RAM." The project is in some ways a reaction to and rejection of the rise of electronic dance music. Though many of today's house producers credit Daft Punk as their inspiration, the duo felt that dance music had grown tired in recent years, pointing to overly compressed sounds and formulaic song structure as signs the scene needed a reboot. As a result, they severely limited the amount of electronic sounds on "RAM," instead opting to record on big sound stages (even sounds like water droplets were recorded live). The analog efforts are meant to instill a sense of warmth, depth and space in the album.
Pharrell Williams, who appears on two songs on the album, got the opportunity after telling them that he would love to play any part in the creation of their new music, no matter how small. The robots, as he refers to them, have said they worked on Kanye West's upcoming solo album.
"RAM" has enjoyed mostly positive reviews, though producers including Just Blaze and Wolfgang Gartner tweeted their disappointment with the album on Monday. Daft Punk's representatives maintain that the group has yet to plan a tour in support of the record.
There's plenty more over at NME, so be sure to check out the full list.
Fans React to Daft Punk's Leak:
PHOTO GALLERY
Daft Punk Leaks
BEFORE YOU GO