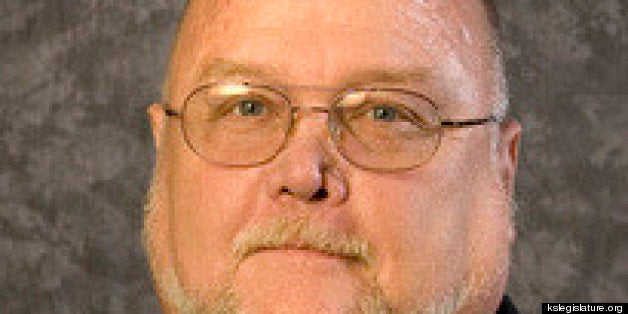 A Kansas Republican state legislator is denying involvement in a pair of prostitution-related arrests 16 years ago, after the case resurfaced during an ongoing investigation into a February incident in his hotel room.
Rep. Joe Edwards (R-Haysville) said he was not convicted on prostitution and loitering charges in March and August 1997, telling the Topeka Capitol-Journal that a man with the same name and birthday who lived in the same part of the state was, in fact, convicted.
The Wichita Eagle reported in 1997 that Edwards said someone sharing his birthday and his legal name, George F. Edwards II, was convicted on the charges, receiving a three-month jail sentence for loitering. (The prostitution charge was dismissed.) Another George F. Edwards II -- with the same middle initial but a different middle name -- lived in the area at the time, he said, claiming a case of mistaken identity.
"I had heard ... something to that effect, that there was somebody that had been arrested that had a similar name to me," Edwards told the Capitol-Journal. "There was a black family in the Wichita area that had a George F. Whether that is him or not, I just don't know."
The older case came to light as Topeka Police investigated a mugging and assault that Edwards' reported in February 2013. Edwards said he was reentering his room at a local Ramada from an outside door after getting groceries from his car, when an unknown individual "knocked me loony" and then stole $260 in cash. Edwards' credit cards and groceries were untouched.
The Capitol-Journal reported that police questioned Edwards over whether he filed a false report, which was driven by reports of the 1997 prostitution cases. Edwards, a part-time pastor, said that police had asked him if he "went somewhere you shouldn't have" before being attacked. He has denied making a false report and said police dropped the claim. He instead blamed police for not running a good investigation.
BEFORE YOU GO
PHOTO GALLERY
10 Major Crimes That Shocked the Nation (SLIDESHOW)