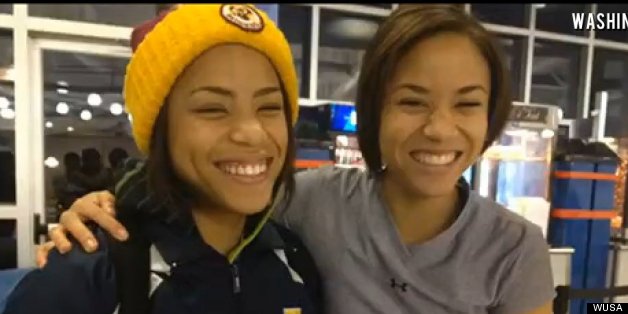 For most people, "Sister, Sister" was just a show. But for two high school students, the sitcom's plot played out in their real lives.
Jordan Dickerson, a junior at Woodrow Wilson High School in Washington, DC, and Robin Jeter, a senior at Friendship Collegiate Academy public charter school about 10 minutes away, met at a track meet and discovered they were sisters, separated as infants 17 years ago. Although the two aren't twins, their story is quite close to the show that made identical actresses Tia and Tamara Mowry famous.
"My team was like, 'She looks just like you,' " Dickerson said, describing what led her to walk up to Jeter and strike up a conversation on Jan. 9. She said learning the girl's last name triggered tears, eventually leading both girls to talk on the phone and piece together their years of separation.
"I was so anxious to know more about her: Where did she go to school? How old was she? What is she like?" Dickerson said.
Jeter, had bounced around from her mother to foster care and eventually to a legal guardian, while Dickerson was adopted shortly after being born. The girls are just nine months apart and bear a striking resemblance to one another. They are just two of several separated brothers and sisters, four of whom have been found.
According to the U.S. Department of Health and Human Services, more than half the children entering foster care in the country were children of color, with 27 percent of those being African-American. While minority children make up the majority of those in foster care, research suggests they also remain in the system for a longer period of time.
As Dickerson and Jeter continue the search for their other siblings, they spend every weekend with each other looking at old photos and making up for lost time.
BEFORE YOU GO
PHOTO GALLERY
Superstar Sisters