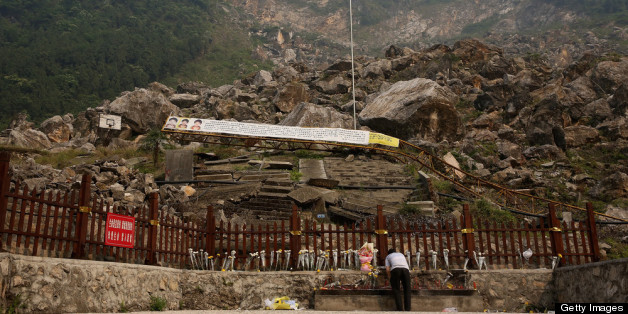 Yesterday marked a full five years since a massive 7.9-magnitude earthquake struck China's Sichuan province, leaving over 80,000 people dead. Across the region, the May 12th anniversary was observed with both formal ceremonies and informal pilgrimages to the ruined towns of Sichuan.
In Beichuan, where nearly half of the population perished in the tragedy, the local government decided quickly after the quake to preserve the town's destroyed buildings as a tourist attraction and memorial rather than demolish them. The ruins also function as a graveyard for thousands of the 18,000 dead whose bodies were never found.
A new Beichuan is being built fifteen miles south on a flat river plain, farther from the fault lines that spelled doom for the old city.
On the ruined campus of Beichuan Middle School, where 1,300 children perished, weeds run wild and goats graze, evidence that the forces of nature can promote growth as well as destruction.
PHOTO GALLERY
Sichuan Earthquake Anniversary
BEFORE YOU GO