MIAMI -- Wynwood's murals have been written up in The Guardian, The New York Times, and the Atlantic.
There are even organized bike and Segway tours of the gritty arts district, where blank warehouse exterior walls are transformed into sprawling masterpieces of vibrant design. But are the artists behind the murals getting the recognition they deserve?
"There are all these people walking around and no one has a clue about who did any of the murals that they are posing in front of or walking besides," Julian Barquero, a 24-year-old skateboarder and designer, told HuffPost Miami.
"I wanted to teach people who these artists were. But I figured I'd have better luck teaching the youth subliminally through skateboarding," he continued.
What he had in mind was Wynwood Skateboards, a project in which Wynwood murals would be featured on skateboard decks and the artists would be given a cut of the sales.
Barquero envisions that each board will cost $50 or $60 for limited-run designs with each deck signed by the artist. There's no timetable for the project yet; it depends on how much funding is secured via Kickstarter, an online fundraising site.
(Story continues after image.)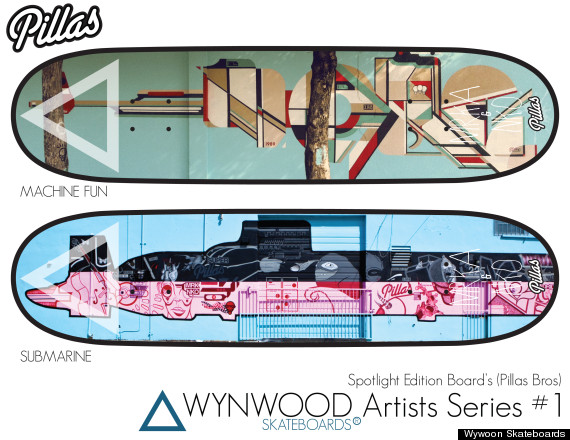 Barquero, who was born in Costa Rica, grew up in Miami and attended suburban high school Doral Academy where he started skateboarding in the ninth grade. He then studied accessory design at Miami International University of Art & Design.
"I love Miami. I love what it's becoming. The area of Wynwood has come a long way from what it was in the early 2000s when Control Skatepark was there and you were literally hanging out with gunshots here and there," he said.
Among the dozens of Wynwood murals, Barquero says he's particularly drawn to one by Pillas Bros called "Submarine."
(Story continues after photo.)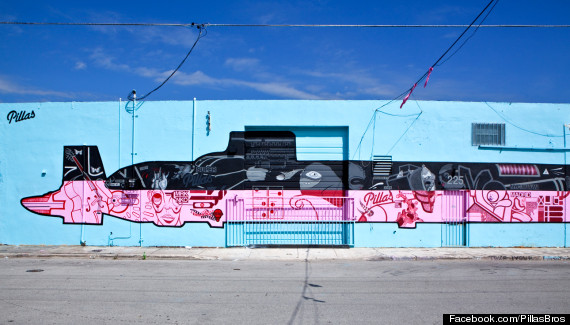 "I instantly loved it the minute I first saw it," he says. "The colors, its cleanness, its boldness, its complexity … it was an instant hit with me. At the time I had no clue who they were. But they were my first pick when I thought of doing this project and working with them has been amazing."
So far, the selected artists are happy to be featured.
"When we were approached by Wynwood Skateboards we felt the project portrayed the vibe you get when you're in Wynwood," muralist Pillas told blog Relevant. "It's a great way of spreading the art through the subculture of skate. It's a very chill brand with good values that we think we can relate to."
Watch the above video to learn which artists will be featured next on Wynwood Skateboards, including Swoon, Ahol, and Jeff Soto.