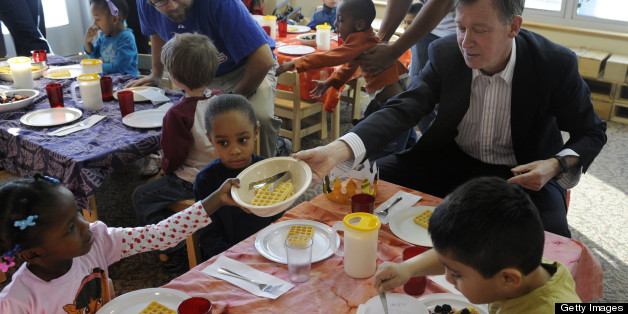 Hundreds of Colorado schools will be required to start supplying breakfast to students next year after Governor John Hickenlooper signed the bill into law Wednesday.
The so-called "Breakfast After The Bell" bill was passed this legislative session to provide universal free breakfast at high-poverty schools with the intention of ensuring student hunger doesn't detract from learning.
"I love this bill," bill sponsor Rep. Dominick Moreno (D-Commerce City) told fellow House members in March. "The 'Breakfast After The Bell' model is proven to have an incredible success rates."
The bill requires schools with 80 percent or more students who qualify for free or reduced lunch to serve breakfast at the start of each school day, totaling more than 360 schools in the state. According to Hunger Free Colorado, an advocacy group that pushed for the bill, that's another 80,000 students who will have access to breakfast each school day.
"By enacting this legislation, we can ensure that more Colorado kids will have access to a healthy breakfast so they can start the school day ready to learn," Moreno said in a statement.
Education News Colorado reports that the bill requires participating schools to serve breakfast to all students, so that students who need breakfast won't have to feel concerned about being labeled as "poor."
The bill's signing ceremony took place in the cafeteria of Rose Hill Elementary School, where 90 percent of the student body is eligible for free or reduced lunch.
BEFORE YOU GO
PHOTO GALLERY
Breakfast After The Bell Bill Signing