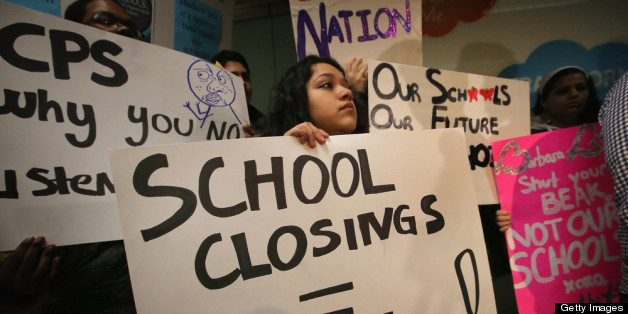 With the Chicago Board of Education set to vote in a week on closing 54 of the city's public schools and co-locating 11 others, the Chicago Teachers Union filed two federal lawsuits Wednesday aimed at bringing the pending closures to a halt.
The complaints, filed on behalf of parents of CPS parents, center on the effect that the closings will have on students with disabilities and African-American students at impacted schools, specifically claiming that the schools' proposed shutterings violate the Americans With Disabilities Act and the Illinois Civil Rights Act, the Chicago Tribune reports.
(Read the federal complaints.)
The first suit claims that students with disabilities -- an estimated 5,000 at impacted schools -- are being put "at far greater risk than their non-disabled peers" in the district because the timeline for the closings "does not permit a timely and orderly process" to ensure that the students will have the services they need when school begins in the fall.
"There is no way that in a few short months the Board can responsibly do the counseling and provide the support services these children with disabilities need," CTU Financial Secretary Kristine Mayle, a former special education teacher, said in a statement.
Another complaint alleges that the closings have "single[d] out only African-American children." The lawsuits are seeking an immediate injunction against the proposed closings.
"School closings as policy is unsound," CTU President Karen Lewis said in a statement. "We hope the courts listen to these parents and act swiftly to stop this assault on our schools, our students and our communities."
In response to the lawsuits, CPS said in a statement reported by NBC Chicago, "Instead of offering up solutions, CTU continues to protect a status quo that doesn't put our children first. Consolidating underutilized schools is necessary to give children the resources they need to access a quality, 21st century education."
The district, facing a $1 billion budget deficit, maintains that it must make better use of its resources amid what it has labeled a "underutilization" crisis at its schools.
The CTU already announced that they will hold the "mother of all marches" over three days, beginning Saturday, that will culminate with a protest downtown on Monday. The union is also continuing to lobby state lawmakers to do whatever they can to block the closures.
The mayoral-appointed school board will vote on the closures at their May 22 meeting. If approved, CPS's plan will be the largest-ever restructuring of a major urban school district.
BEFORE YOU GO
PHOTO GALLERY
Protest Of Chicago Public School Closings