Jay Carney had a really tough day on Tuesday and there are many photos to prove it.
Carney kicked off his Wednesday press briefing by mocking the many distressed faces he displayed on Tuesday, when the White House press corps grilled the press secretary on three government scandals, including the Department of Justice secretly obtaining months of AP reporters' phone records. Journalists have expressed outrage over the investigation, and media watchdog groups and critics have called the Justice Department's actions "Nixonian."
The White House press secretary joked that he could have shown up to Wednesday's briefing with a brown paper bag over his head, but "if I did, you wouldn't be able to see the 'many faces of Jay' in response to yesterday's news." On the screen behind him, Carney pointed to six photographs of himself looking particularly bothered and referenced Chris Cillizza's Washington Post story, "Jay Carney's day — in 7 faces."
During Wednesday's press briefing, members of the White House press corps asked Carney once again about the Department of Justice scandal. Carney repeated the statement he provided to journalists on Tuesday, saying that he was unable to comment on an ongoing criminal investigation. He did not use the word "unfettered," which he repeated enough times on Tuesday to get mocked on Twitter.
PHOTO: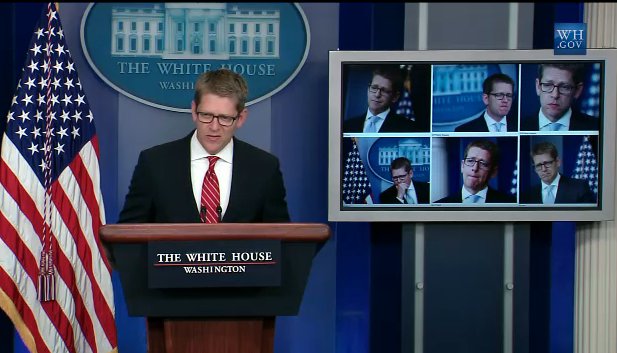 Later in the meeting, CBS News' Mark Knoller asked Carney how he was doing considering the rough news week. Carney smiled and assured the briefing room that it was a "privilege," even during a challenging news cycle.
BEFORE YOU GO
PHOTO GALLERY
Presidents On Inauguration Day