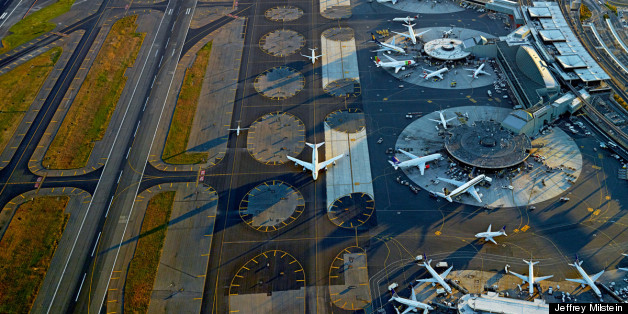 Say what you will about airports, but unless you appreciate Bose kiosks and shoe shine stands on a deeper level than the rest of us, the vast majority of air travel isn't exactly aesthetically pleasing.
That is, unless you're Jeffrey Milstein, whose affinity for all things plane-related has resulted in "Flying," a surprisingly beautiful set of photos of New York's John F. Kennedy International Airport (and a touch of Newark, for good measure).
"Flying" captures the airports from above, depicting a colorful patchwork of winding roads, toy-sized airplanes and dramatic shadow.
"It's kind of like a living organism," Milstein explained to Slate, speaking of an airport's intricately intertwined moving parts. "There are lines of airplanes and then the cars that move have their lanes and the trains taking people around are moving on another level, so there are all of these things, and it's interesting how it happens."
Milstein snapped the photos while flying above the airports at low altitude in a small plane. He told The Atlantic Cities he got permission to do so, but he didn't elaborate much beyond that.
In a media release, Milstein said his fascination with planes began as a child in Los Angeles. His favorite activity was watching planes come in to land at Los Angeles International Airport (LAX).
"In those days it was DC3s and DC6s. There were no jets yet." Milstein told the Los Angeles Times. "I loved standing right under them as they flew over my head.
A second plane-related endeavor by Milstein, titled "Aircraft: The Jet As Art," features large-format photos of the airplanes themselves, captured in flight as they landed at Reagan National Airport in Washington, D.C.
PHOTOS via Milstein's "Flying" and "Aircraft: The Jet As Art"
PHOTO GALLERY
Select Works From Jeffrey Milstein's 'Flying,' And 'Aircraft: The Jet As Art'
BEFORE YOU GO
PHOTO GALLERY
A History Of Flight Attendant Uniforms