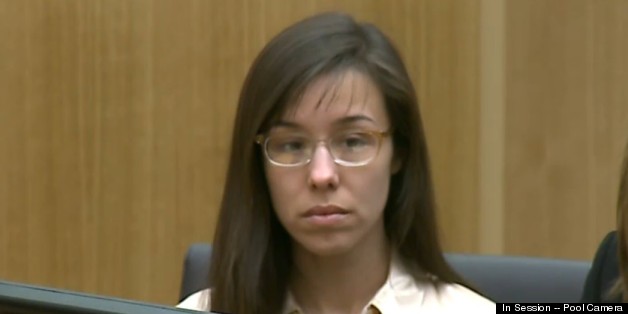 The same Phoenix jury that convicted Jodi Arias for the 2008 slaying of her ex-boyfriend, Travis Alexander, declared Wednesday that she is eligible for the death penalty.
The jury returned the eligibility verdict after less than three hours of deliberation.
In Arizona, the jury must first decide whether or not someone is eligible for the death penalty. In this case, the jury said, according to the law, Arias is eligible because she killed Alexander in an "especially heinous, cruel or depraved manner" -- all criteria that must be met to impose a death sentence.
Arias, 32, stood accused of stabbing 30-year-old Alexander nearly 30 times, shooting him in the head and cutting his throat from ear to ear in his Mesa home on June 4, 2008. The jury of eight men and four women heard four months of gruesome testimony in the case and deliberated about 15 hours before returning a first-degree murder verdict on May 8.
Lawyers on both sides spoke before the jury deliberated.
"The last thing he saw before he lapsed into unconsciousness ... was that blade coming to his throat," prosecutor Juan Martinez said. "And the last thing he felt before he left this earth was pain ... She made sure she killed him by stabbing him over and over and over again."
At one point Martinez pointed out that it would have taken about two minutes for Alexander to die. "Let's just sit here for two minutes," Martinez said.
No one in the courtroom spoke for two minutes. Afterward, Martinez said: "Does that seem like a short period of time? No."
Arias' defense team had little to say during the proceeding. Its opening and closing statements were short.
"This isn't a matter of cruelty ... the question is does it meet the definition of especially cruel," Arias defense attorney Kirk Nurmi said. "Is it beyond this normal cruelty that is inherent in first-degree murder?"
Nurmi reminded the jury of the instructions provided by the judge and said the state had failed to prove Alexander suffered a cruel death. "This aggravating factor was indeed not proven," Nurmi said.
During the next phase of the trial, the sentencing phase, jurors will decide whether to impose the death penalty. In that phase, prosecutors can present additional evidence, and the defense can, but does not have to, offer mitigating evidence. Jurors will likely hear from relatives of the victim, and perhaps from Arias herself or members of her family.
Jurors ultimately will have to make a unanimous decision on whether Arias deserves the death penalty. If not, Arias will get a life sentence. The state of Arizona has not executed a woman since 1930.
BEFORE YOU GO