Kobe Bryant on Tuesday shared a photo of his Achilles' surgery. You might wish he hadn't.
It's got blood, stitches and rubber-gloved hands. If the mental picture isn't enough, scroll down to the Instagram image. You've been warned.
"One month ago yesterday," he captioned the Instagram pic, noting the April 13 date of his operation to repair the tendon he tore April 12 during a game against the Golden State Warriors.
Sure, it's icky, but perhaps for some Lakers fans it represents the beginning of Bryant's comeback. The future Hall of Famer will be out at least six months, the Los Angeles Times reported. Bryant expects to be back on the court sooner.
Earlier this month he shared a photo after the stitches had been removed and tagged it #progress. The picture shows a nice clean bandage, not an exposed, raw tendon surrounded by blood.
A few outlets seemed to be telling Bryant this week that in photography, as in basketball, sometimes it's OK not to share.
KOBE'S SURGERY PHOTO -- WARNING: Graphic image. Not for the squeamish.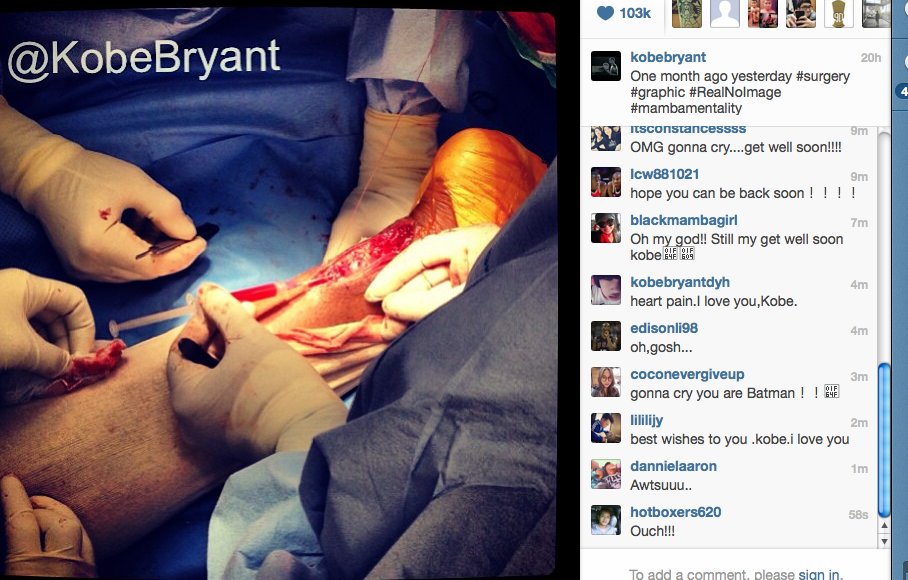 Image credit: Kobe Bryant/Instagram
BEFORE YOU GO