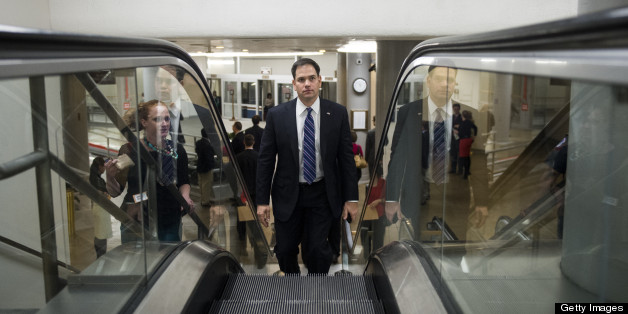 One of President Obama's central promises as a candidate for the White House in 2008 was that he would transform the culture of Washington and the country's politics.
"Change has come to America," he declared the night he won the presidency.
There is the hint of a fledgling counter narrative emerging now - as Obama deals with multiple scandals - from the man who many think wants to replace Obama in the White House in 2016: Sen. Marco Rubio (R-Fla). In a speech on the floor of the Senate Wednesday, Rubio said the president has changed the culture of Washington, but for the worse.
Rubio began by pointing to the treatment of State Department personnel who were on the ground in Benghazi, Libya and have since said they were pressured to keep quiet, he pointed to to the IRS scandal, and then to the AP scandal. But Rubio said that "none of this is new."
"What we see emerging here is a pattern, a culture of intimidation, of hardball politics that we saw both on the campaign trial, and now through the apparatus of government," he said.
As evidence he cited the case of Frank VanderSloot, an Idaho businessman who donated to a super PAC supporting Republican Mitt Romney and was listed by the Obama campaign as one of several "wealthy individuals with less-than-reputable records," and then was subsequently the subject of audits by the IRS and the Labor Department. No definitive proof has been offered or found to connect the Obama campaign appearance and the audits, but the IRS scandal of the past week has given more reason for those who speculate about a connection to do so.
Rubio also mentioned the improper IRS leak of nonprofit applications from conservative groups to ProPublica, a nonprofit news organization, which may have been a violation of the law, as well as the example of the National Labor Relations Board's complaint against Boeing for moving a plant from Washington state to South Carolina.
Rubio then launched into a section of his speech in which he accused Obama of worsening the culture of the nation's capital.
"This is what you get when an administration is all about politics. This administration is a 365-day-a-year, year round political campaign. Every issues is a potliical campaign ... Every issue is a wedge. Few times in the history of this country has anyone used this office to drive more wedges among the American people than this president and this administration. And so yes, this is the culture that's been created: 'They're bad and we're good. Our enemies are bad people. The people who disagree with us on policy are bad people. If you don't support us on guns, you don't care about children and families. You don't support some measure against religious liberty, you're waging a war on women.'

On issue after issue, a deliberate attempt to divide the American people against each other for the purposes of winning an election. That is the culture that's been created. And that culture leads to this kind of behavior ... I'm not saying someone in the White House picked up the phone and said, 'Do these audits. Leak this information.' I am saying that when you create a culture where what's rewarded is political advantage ... it leads to this kind of behavior throughout your administration."
And Rubio also said, in strong terms, that he is opposed to Tom Perez's nomination for Secretary of Labor. Perez, said Rubio, "has an admirable personal story which I admire and applaud, but ... has a history of using the government and his position in government to intimidate people to do what he wants them to do."
"I would submit to you that Mr. Perez's nomination is bad for the country in any time, but in this administration, in this political culture, after what we have learned over the last few days, even more so. I hate to single him out but that's one of the pending ones before us," Rubio said.
Here is video of the speech:
BEFORE YOU GO
PHOTO GALLERY
Sen. Marco Rubio