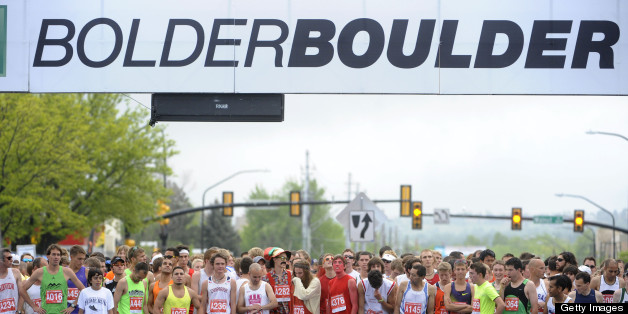 In light of the fatal bombings at the Boston Marathon in April, Bolder Boulder race organizers and local police today announced there will be extra security measures -- including bag screenings at the Folsom Field finish -- at this year's race.
The announcement by Boulder and University of Colorado police came almost exactly a month after two bombs set off near the finish of the Boston Marathon killed three and injured more than 140.
"After the Boston Marathon bombings, every law enforcement agency across the country looked at how they manage these large scale events, and we're no different," said Ryan Huff, a spokesman with CU police. "We thought it would be best to have some increased security measures. The participants should know Boulder police and CU police and the race organizers are all working together to make this the safest event possible."
Among the added measures, police will be screening all bags that come into Folsom Field at the finish of the Memorial Day 10K race. Spectators bringing items into Folsom for the finish will only be allowed to bring in soft-sided bags no larger than 12 inches by 12 inches by 12 inches -- and those bags will be checked.
"If people have been to a football game here before, the screening will be very similar," Huff said.
Last week's CU graduation ceremony also included bag checks at Folsom Field and didn't see significant delays, but Huff added the Bolder Boulder crowd is much different.
"It's a much larger event and also a much longer event," Huff said.
Cliff Bosley, the race's director, said he does not anticipate the added security at the finish will cause spectators to stay away from Folsom Field.
"I don't think we have those concerns," he said. "The planning and the preparation that we are doing has us very comfortable."
In addition to security at the finish, police also will have extra officers all around the race course.
"We want people to know we're watching and trying to make the race safe and trying to put them at ease," said Boulder police Chief Mark Beckner.
Beckner said police and race organizers looked at how police handled other big races since the Boston Marathon bombings.
"That was the precipitating event that led us to increase our security for this race, which is pretty typical when you look at the races since the Boston race and ours," Beckner said. "Each city has done similar things."
Police are also asking the public not to bring bags to the May 27 race if possible, and any unattended bags will be subject to confiscation. They also are asking anyone who sees any suspicious activity or bags to call 911 or notify a nearby officer.
"We are just reminding people to be aware of their surroundings and report anything suspicious," Beckner said. "Just common sense kind of things."
Bosley said from reaction he's seen both on social media and in person with registered runners, the security has not deterred runners.
"We're looking at the event with a keen eye to safety and security," he said. "I think people are accustomed to that mindset already. I think as a whole it is a smart way to look at things and I think people will appreciate that it is in place."
He said he also expects that rather than scaring runners, the Boston Marathon bombings may galvanize the running community. He said a woman who registered for the race recently told him she was running in honor of those victims.
"I think that's a great way to look at it," Bosley said. "What we're hearing as we talk to different participants is, 'I'm going to run the Bolder Boulder because of what happened at the Boston Marathon.'"
Bosley said the race is on pace to have about 50,000 participants this year, the 35th Bolder Boulder since it started in 1979.
"It's a big anniversary for us," he said. "It is going to be a great race."
For a full list of prohibited items, click here and for updates and race information visit www.bolderboulder.com. ___