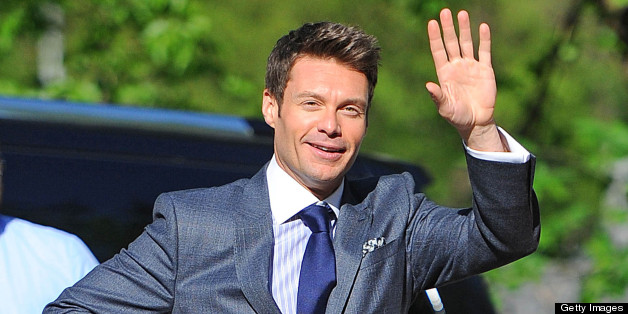 Who knew Ryan Seacrest could speak Spanish? Oh wait, he doesn't, but that's not stopping him from launching a new singing competition on Telemundo. The "American Idol" host, through his company Ryan Seacrest Productions, has sold 13 two-hour episodes of "Duelo Musical: Super Estrella" to the network and is also working on an English language format for NBC.
The new show will feature two established musical acts competing mano a mano. The loser will have to fulfill a gentlemen's bet, but not much more has been revealed. There will be challenges, mystery acts with other known artists and viewers will decide who wins. Think "Survivor" meets "American Idol".
"Latin America has always produced incredible musicians who have influenced global pop culture. Because of this, RSP has been focused on developing programming to reach the Hispanic audience for some time," Seacrest told The Hollywood Reporter following the announcement.
Ryan Seacrest takes on Spanish-language programming
The new show is part of a slew of new programming for Telemundo which is looking to make an aggressive run at its formidable competitor Univision. In addition to the new Seacrest show the network will be airing five new prime time telenovelas and expanding its sports coverage in the upcoming season.
"There's no such thing as a comfortable No. 2," Telemundo president Emilio Romano said at a recent press conference. "We've been the underdog for so many years and we've been given the mission to fight and fight hard," he added.
As for "Duelo Musical", the "Superstar Showdown", apparently the format has been successful in other countries and Romano said that he's hoping the "American Idol" host will use his connections and leverage to attract talent.
Indeed Ryan Seacrest is a well-connected celeb who is reshaping the essence of entrepreneurship in show business. Known these days as one of Hollywood's busiest businessmen, Seacrest has been profiled in The New York Times, Wall Street Journal, Financial Times, Fortune, Forbes, ranked #1 on The Hollywood Reporter's Reality list in 2011 and 2012, named to Fast Company's "100 Most Creative People in the Business" issue, Advertising Age's "Entertainment A-List" and named "#5 Most Influential Person on Twitter" by The New York Times.
In addition to RSP he also runs the Ryan Seacrest Foundation, a nonprofit dedicated to improving quality of life for seriously ill or injured children. The foundation is building broadcast media centers in hospitals for children to explore the creative realms of radio, television and news media and has already launched two such centers at Children's Healthcare of Atlanta and Children's Hospital of Philadelphia. In April 2012, Seacrest named Selena Gomez as Ambassador to the Foundation.
Originally published on VOXXI as Ryan Seacrest's new show 'Duelo Musical: Super Estrella'

BEFORE YOU GO
PHOTO GALLERY
American Idol Judges Through The Years