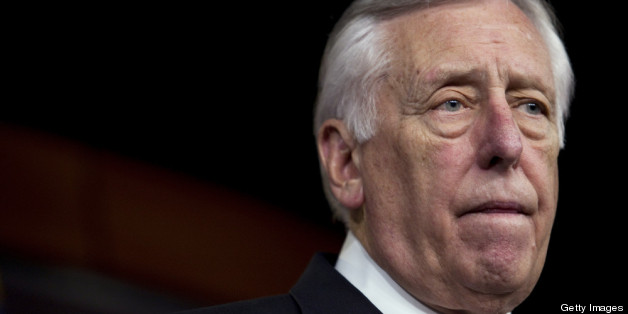 WASHINGTON -- Rep. Steny Hoyer (D-Md.), the second-ranking Democrat in the House, said Wednesday he supports the Obama administration's ouster of Steven Miller, acting commissioner of the Internal Revenue Service, after the agency targeted conservative groups seeking tax-exempt status.
President Barack Obama announced Wednesday evening that Treasury Secretary Jack Lew requested Miller's resignation after a Treasury Department inspector general's report found that lower-level IRS staff acted out of incompetence holding conservative groups under greater scrutiny ahead of the 2012 elections. Some Republicans said Miller's job wasn't sufficient to halt questions, but Hoyer called the response appropriate for the short term.
"I certainly think Jack Lew was correct, and it was good the president said there's going to be accountability and responsibility," Hoyer, the House minority whip, told The Huffington Post shortly after Obama's remarks. "And the guy who's the head, like the coach, takes the responsibility. I think it was the appropriate action."
"The president's correct and Americans ought to be angry," Hoyer added. "We cannot have the IRS showing any favoritism or targeting people. They have to have the credibility and confidence of the American public."
The inspector general's 48-page report released Tuesday confirmed the targeting of conservative groups was not politically motivated. But lawmakers on both sides of the aisle nonetheless called on Obama to respond forcefully. Beyond Miller's resignation, the president said he had instructed Lew to look further into why group with words like "tea party" in their names were subjected to greater scrutiny while applying for 501(c)(4) status. Obama also said he would "work with Congress as it performs its oversight role" in investigating the IRS.
Senate Minority Leader Mitch McConnell (R-Ky.) called on the president to "work openly and transparently with Congress to get to the bottom of the scandal." Hoyer said he was reluctant to say what actions lawmakers should take.
Asked whether he agreed with his colleague Senate Majority Leader Harry Reid (D-Nev.) that Republicans were politicizing the IRS scandal, Hoyer said it was an "unfortunate" consequence of a polarized Congress.
"The last Congress was one of the most political Congresses in which I've served," Hoyer said. "This Congress continues to be political, so I'm not surprised. I think it's unfortunate. I don't think the president had anything to do with this."
He added: "I think it was the policy of the IRS to try and simplify their job, and they did it incorrectly."
BEFORE YOU GO
PHOTO GALLERY
Politicians React To IRS Scandal