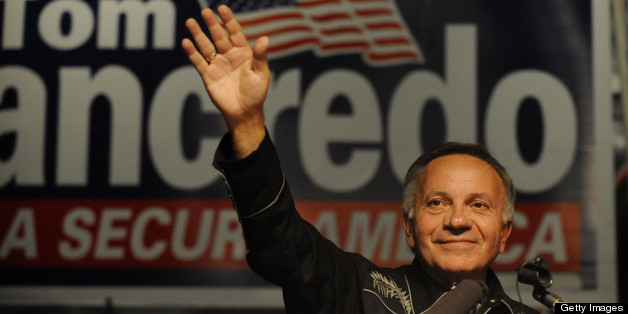 Tom Tancredo is reportedly thinking about giving Governor Hickenlooper a run for his money.
The former conservative U.S. representative told The Denver Post that he is seriously considering another run for governor in 2014, this time as a Republican.
Tancredo last ran for governor in 2010 as a third party candidate against Republican candidate Dan Maes and then-Denver Mayor John Hickenlooper. He came in second, netting 24 percentage points over Maes but has since switched his party affiliation back to Republican.
After his failed gubernatorial run as member of the American Constitution Party (ACP), Tancredo told conservative blogger Ari Armstrong that he "probably won't be a member [of the ACP] for very long."
Tancredo represented Colorado's 6th Congressional District from 1999 to 2009, and called attention to the U.S.'s immigration policies while making a brief run for president in the 2008 election, although he ultimately dropped out and endorsed Mitt Romney.
At the time Tancredo said that he'd met with Romney and was confident that he would "go the distance."
On immigration Tancredo has been well-known for demanding increased border security and his opposition to amnesty for anyone who's in the country illegally.
In March, the former congressman published a piece in The Christian Post entitled "Why I No Longer Stand With Rand Paul" in which he disavowed his former ally's campaign for U.S. Senate because of his stance on immigration.
"Both Obama and the Gang of 8 say that the illegal immigrants must pay a penalty for legal status, while Rand Paul told reporters after his speech he is not 'not as a big a stickler' on these items, because the illegals would not be able to afford the fines," Tancredo wrote in the piece.
More locally, Tancredo made headlines as an advocate for marijuana legalization and as an endorser of Colorado's now infamous Amendment 64 (although he also reneged on a promise to get high with "Grassroots" filmmaker Adam Hartle).
An April poll by Public Policy Polling however may foreshadow an uphill race for Tancredo.
The poll shows Hickenlooper with a 53 percent approval rating, though his disapproval rating has also spiked in recent months to 44 percent. Still, the PPP poll claims to have tested Hickenlooper's numbers against "every major GOP figure in the state," including Tom Tancredo, and concluded that "Not a single one of the Republicans we tested has a positive statewide favorability rating."

BEFORE YOU GO
PHOTO GALLERY
Tom Tancredo