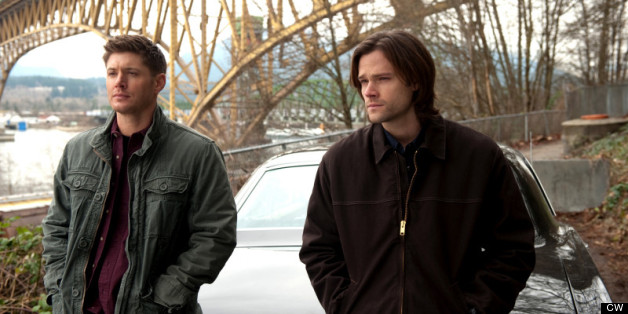 The CW is changing up its schedule for the 2013-2014 season.
"Hart of Dixie" and "Beauty of the Beast" both move to Mondays. "Supernatural" will leave "Arrow" on Wednesdays and move to "Tuesdays," and "The Carrie Diaries" has been shifted to Fridays. "Star-Crossed," "The 100" and "Famous in 12" will premiere midseason. The CW will launch its new fall season in October 2013.
"Nikita" will return for a six episode final season, but no return date has been given.
"We had a terrific season last year, growing our audience on-air, digitally and socially. Now we are building on that success by continuing to add more original programming all year long, and by adding high-concept, exciting shows to our schedule that will help us continue our mission of broadening out our 18-to-34-year old audience," Mark Pedowitz, president of The CW, said in a statement. "'Arrow' was one of the breakout hits of this season, and we're using that show and 'The Vampire Diaries,' our two highest-rated series, to launch our new dramas 'The Tomorrow People' and 'Reign,' on Wednesday and Thursday nights.
"Klaus, Elijah, and Rebekah, the original family of vampires, have become fan favorites over the past three seasons on 'The Vampire Diaries,' and we know viewers will be excited to see more of their story in their new spin-off series, 'The Originals,' on Tuesday nights. And with 'Star-Crossed' and 'The 100' set for midseason, The CW is poised to keep growing and keep our momentum going."
Check out the full schedule below. A * denotes new series.
MONDAYS
8 p.m. "Hart of Dixie"
9 p.m. "Beauty and the Beast"
TUESDAYS
8 p.m. "The Originals"*
9 p.m. "Supernatural"
WEDNESDAYS
8 p.m. "Arrow"
9 p.m. "The Tomorrow People"*
THURSDAYS
8 p.m. "The Vampire Diaries"
9 p.m. "Reign"*
FRIDAYS
8 p.m. "The Carrie Diaries"
9 p.m. "America's Next Top Model"
PHOTO GALLERY
2013 Renewal Index: Canceled, Renewed & On The Bubble Shows
BEFORE YOU GO