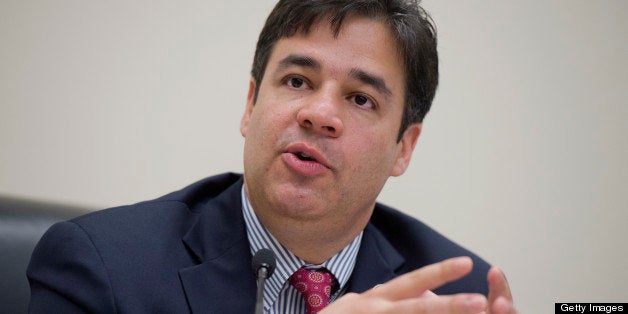 WASHINGTON -- A bipartisan group in the House has come to an agreement on principles for a comprehensive immigration reform bill, members said on Thursday.
After a two-hour meeting with the group, Rep. Mario Diaz-Balart (R-Fla.) told reporters off the House floor that the eight members are now working on a final draft of the bill. He declined to say whether pieces of it would move on their own or all in one bill.
"I've always wanted to fix what's broken, and clearly what's broken is the entire immigration system," Diaz-Balart said. "And I think this bill would do that. ... I feel really, really, really, really comfortable with the fact that this is a very complete bill that fulfills what I've always wanted, which is to fix what's broken."
The members have been working for months -- some for years -- on a deal for immigration reform, a tough sell in the Republican-controlled House. They have kept their discussions quiet, and many did not openly acknowledge the group existed until they put out a joint statement in April praising the immigration reform work of the Senate "gang of eight."
The House group includes Democratic Reps. Xavier Becerra (Calif.), Luis Gutierrez (Ill.), Zoe Lofgren (Calif.) and John Yarmuth (Ky.), along with Republican Reps. John Carter (Texas), Diaz-Balart (Fla.), Sam Johnson (Texas) and Raul Labrador (Idaho).
Although members have said in the past that they were close to a deal, there have been setbacks. On Wednesday, Politico reported that two GOP members -- Labrador and Carter -- threatened to leave if a deal was not reached at the Thursday meeting. Carter told reporters on Thursday he was "feeling better" about the group's progress.
House Speaker John Boehner (R-Ohio) said earlier Thursday he was concerned about the deadlock.
"I am concerned that the bipartisan group has been unable to wrap up their work," Boehner told reporters at a press conference. "And I know that there are some very difficult issues that have come up. But I continue to believe that the House needs to deal with this and the House needs to work its will. How we get there, we're still dealing with it."
Diaz-Balart was tight-lipped about details of the deal, and said it is yet to be determined when the group will finish the legislation. Many parts have already been drafted, he said, but the members still need to make some final agreements. He joked it would be "safe to say it's going to be a little over two or three" pages long.
"We have a lot of it drafted ... but these have been very intense negotiations, and so obviously it's got to be finalized drafting," Diaz-Balart told reporters. "And then we're going to have to sit down and, unlike other bills, we've got to read line-by-line and make sure that it's all there."
Diaz-Balart said he expects the group to stick together.
"It's been difficult, arduous process, and we haven't fallen apart yet," Diaz-Balart said. "And now we have an agreement of principle and I think that says it all."
BEFORE YOU GO
PHOTO GALLERY
10 Major U.S. Federal Immigration Laws