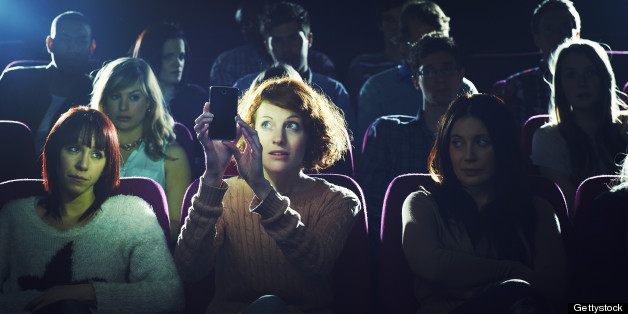 Ever had the urge at a movie theater to grab someone's phone and throw it across the room? Seeing that bright screen in a dark room can be really distracting, right?
Well, National Review reporter Kevin Williamson had that urge at a play on Wednesday night in New York -- and he acted on it.
In a defiant blog post on the Review's website, Williamson describes how he was watching a musical when he became annoyed by two groups of women "with too much makeup and too-high heels" who were looking at their phones during the production. (This happened, he says, in spite of a pre-show announcement telling audience members to turn off all mobile devices.)
After Williamson's date notified management of the issue, a woman he was sitting next to continued to use her phone.
But after the woman refused to accommodate Williamson's request to turn off the device, he responded in a way many of us have been too ashamed to: He grabbed her phone and threw it across the room.
Management eventually brought Williamson to the lobby and tried to keep him there, explaining that the woman was thinking about pressing charges, Gothamist reports, but Williamson left the theater.
Oddly enough, similar incidents tend to have the opposite result: People get kicked out of movie theaters, concerts and even gyms for using their cell phones.
Gothamist called Williamson a hero, and there's been an outpouring of support for him on Twitter, with one user making him a special certificate of recognition.

Tell us what you think by participating in the poll below.
BEFORE YOU GO