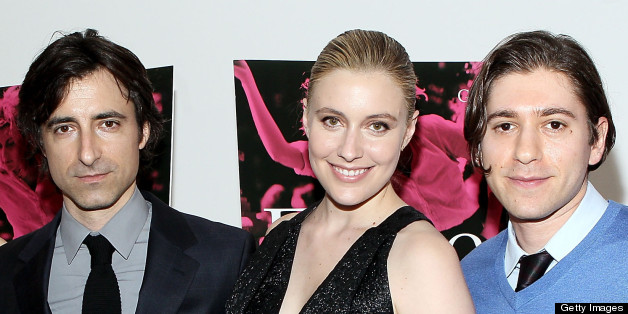 Fans of cable television shows like "Boardwalk Empire" should have no trouble recognizing actor Michael Zegen. Part of the next generation of "that guys" -- those character actors who show up in what seems like everything -- Zegen has appeared on "The Sopranos," "How To Make It In America," "Rescue Me," "The Walking Dead," and, most recently, the aforementioned "Boardwalk Empire," where he plays mobster Bugsy Siegel. This week, Zegen co-stars in Noah Baumbach's new film "Frances Ha" as Benji, a nice guy who becomes friend and roommate to the title character (Greta Gerwig), a 27-year-old modern dancer struggling with life in New York.
"When we would do the scenes, I would watch playback and I knew it was something special," Zegen told HuffPost Entertainment about the film, which premiered last year on the festival circuit to rave reviews and hits theaters in limited release on May 17. The black and white comedy tracks Frances through five different living situations, but it's Benji and fellow roommate Lev (played by "Girls" star Adam Driver) who act as the film's de facto male leads. In fact, Benji and Frances almost connect on a romantic level, but "Frances Ha" avoids such entanglements.
Not that Zegen knew what the finished product would ultimately become. As Gerwig, who co-wrote the film with Baumbach, said to HuffPost Entertainment, the actors in "Frances Ha" only received their specific scenes and not the full script.
"Part of that was just functional with how we were shooting it," Gerwig recalled of the shoot, which took over 50 days. "We were presenting it to [the actors] as, 'Here are the pages that you're in, but you don't know how it fits together.'"
Indeed they didn't, as Zegen was happy to confirm: "It premiered at the Telluride Film Festival and I got a text from Mickey Sumner [who plays Frances' best friend, Sophie] and she was like, 'It's so good! You're so great!' I was like, 'That's awesome. What's it about?'" Zegen said. "I had no idea. I really didn't!"
The unconventional way Baumbach and Gerwig approached "Frances Ha" didn't stop with the script. Despite the fact that the film was shot on a low budget, Baumbach would often request dozens and dozens of takes for scenes, a rarity for indie films, where time means money and both are limited. Gerwig herself wrote about one such sequence in a recent essay for the New York Times. Zegen, too, has his own war story: one scene spread over 60 takes and two days.
"I thought it was done and Noah was like, 'All right, let's come back tomorrow and do it again,'" Zegen said with a laugh. "Then we did another 30 takes the next day. Which is fine with me. I prefer that. I do a lot of TV and they don't have time to do 60 takes. So it was kind of freeing. It was like, 'Well, if I don't get it right this time, I'll do it again. Even if I do get it right this time, I'll do it again and try something else.'"
Zegen likely has slightly fewer takes in his future, even though his schedule is still packed: He's preparing to return for Season 4 of "Boardwalk Empire" -- he said that like "Frances Ha," the scripts are under tight security -- and will star in an Off-Broadway production of "Bad Jews" at the Roundabout Theater in New York this fall. As for "Frances Ha," his biggest film role yet almost didn't happen: Zegen said he left the audition with Baumbach feeling like he didn't get the part.
"I had five minutes to learn the scene, go in and impress Noah," Zegen remembered of his audition, which happened the same day as Driver's. "I guess I did."
PHOTO GALLERY
'Frances Ha'
BEFORE YOU GO