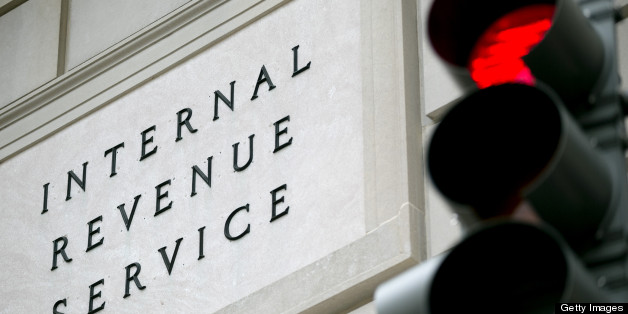 Following news that the IRS subjected conservative and tea party groups applying for tax exempt status to additional scrutiny, most Americans now have a negative opinion of the agency, according to a new HuffPost/YouGov poll.
According to the new poll, 59 percent of Americans have an unfavorable opinion of the IRS, while 21 percent said they have a favorable opinion. Another 20 percent said they weren't sure.
The survey found that most Americans have heard at least a little bit about the IRS unfairly scrutinizing conservative groups, but that few are paying close attention. Thirty-six percent of respondents said that they had heard a lot about the IRS subjecting conservative groups to additional scrutiny, and another 41 percent said they had heard a little about it. Twenty-three percent said that they had heard nothing at all.
Forty-three percent of respondents to the survey said that they are very concerned that the government might use the IRS to target political enemies, while another 25 percent said they were somewhat concerned. Another 15 percent said they were not very concerned, and 5 percent said they were not at all concerned.
Still, an even greater share of respondents said that they were at least somewhat concerned that some organizations might abuse their nonprofit status for personal or political gain, with 42 percent saying they were very concerned and 36 percent saying they were somewhat concerned.
Republicans and independents in the survey were particularly likely to have a negative opinion of the IRS, with 76 percent of Republicans and 65 percent of independents saying that they had an unfavorable opinion. Democrats were more closely divided, with 34 percent saying they had a favorable opinion and 39 percent saying they had an unfavorable opinion.
In fact, a 48 percent to 29 percent plurality of Republicans and a 41 percent to 33 percent plurality of independents said that the IRS should be eliminated entirely, while Democrats said they were in favor of the agency's continued existence by a 62 percent to 20 percent margin. Overall, 35 percent of respondents said that the agency should be eliminated, and 42 percent said it should continue to exist.
The poll was conducted May 13-14 among 1,000 adults using a sample selected from YouGov's opt-in online panel to match the demographics and other characteristics of the adult U.S. population. Factors considered include age, race, gender, education, employment, income, marital status, number of children, voter registration, time and location of Internet access, interest in politics, religion and church attendance.
The Huffington Post has teamed up with YouGov to conduct daily opinion polls. You can learn more about this project and take part in YouGov's nationally representative opinion polling.

BEFORE YOU GO
PHOTO GALLERY
Politicians React To IRS Scandal