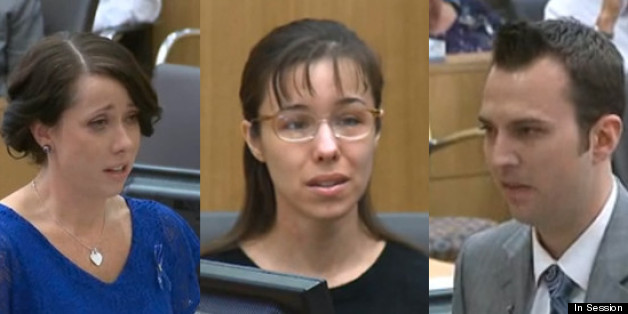 Travis Alexander's siblings stood in open court and sobbed Thursday as they described the emotional devastation caused by his murder at the hands of his ex-girlfriend, Jodi Arias.
Nearly five years of anger, frustration and grief were shared in court by Alexander's brother, Steven, and his sister, Samantha, when they read their emotional victim impact statements.
"I cannot sleep alone in the dark anymore. I've had dreams of my brother all curled up in the shower -- thrown in there to rot for days ... Now when I want to talk or see my brother ... I have to go to a hole in the ground," Steven Alexander said.
"I don't want these nightmares anymore," he said. "I don't want to see my brother's murderer anymore."
JODI ARIAS CRIME SCENE AND TRIAL PHOTOS
Travis Alexander's younger brother read from a blog post he had posted online in April 2008 –- less than two months before he was brutally murdered.
The blog post read, in part: "This is the year that will eclipse all others. I will earn more, learn more, travel more, serve more, love more, give more and be more than all the other years of my life combined … This year will be the best year of my life."
Unfortunately for Travis Alexander, in 2008 his life was cut short. On June 4, he was stabbed almost 30 times and shot in the head inside his Mesa, Ariz., home. His killer was Jodi Arias, a woman he had once loved and still maintained a physical relationship with.
"Travis Alexander was my big brother," Steven Alexander told the jury. "He was killed ... How much did he suffer. How much did he scream?"
Travis Alexander's sister, Samantha, spoke of the brutality of the killing in her heartrending statement, and the pain of seeing the crime scene photos that were shown in court during Arias' 19 week trial.
"I am a police officer and some of these photos are more gruesome than any I have ever seen in my 11 years of law enforcement," she said, as friends and family quietly cried in the courtroom. "Our minds are permanently stained with images of our poor brother's throat slit from ear to ear. Our minds are stained with images of Travis' body."
Samantha Alexander added, "To have Travis taken so barbarically is beyond any words we can find to describe our loss."
Arias, a photographer from California, was convicted May 8 of first-degree murder in Alexander's slaying.
The capital murder verdict, reached after more than 15 hours of deliberations, was a clear rejection of both Arias' self-defense claim as well as defense psychologist Richard Samuels' contention that she suffered from PTSD and acute stress disorder.
On Wednesday, the same Phoenix jury that convicted Arias declared she was eligible for the death penalty. The jury made their decision after less than three hours of deliberation.
With the verdict and aggravating phase both complete, the jury will next determine whether Arias deserves the death penalty or a life sentence.
Arias' defense lawyer, Kirk Nurmi, acknowledged his client's fate is in the jury's hands during Thursday's court proceedings.
"The verdict you render at this phase of the trial will determine whether Jodi Arias spends the rest of her life in prison or if she's sentenced to be executed ... That is the decision before you," Nurmi said.
He suggested the sentence should not be death.
"Life is the appropriate penalty," Nurmi said.
The defense lawyer pointed to Arias' lack of a prior criminal record and said she was a talented artist.
Prosecutor Juan Martinez was unmoved by Nurmi's plea for leniency.
"What does that have to do with what happened on June 4, 2008? ... The fact that she's talented ... indicates nothing more than the defendant trying to gain sympathy ... The only appropriate sentence is death," Martinez said.
The trial resumes Monday at 1 p.m. Eastern time.
BEFORE YOU GO