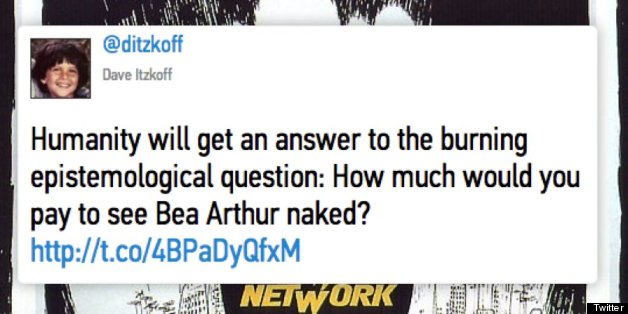 The internet was taken by storm this week when a nude portrait of Bea Arthur sold for nearly $2 million at auction in New York City. Most people were shocked to see the "Golden Girls" star in a topless pose, while others were impressed by the painting's flattering physique. Either way, the image will now be forever burned in the collective consciousness of the cyber world. Thanks, John Currin!
Arthur's voluptuous bust received a lot of attention on social media networks, with sites like Facebook and Twitter punishing users who uploaded images of "Naked Bea Arthur" for all to see. Even The Daily Beast couldn't be spared the shame when their Facebook page was temporarily suspended as a result of posting the portrait.
While we mull over the impact of Ms. Arthur's nude streak across the World Wide Web (and the prudish attitude of social media sites toward nude art), we've put together a slideshow of some of the funniest Twitter responses to this week's big art news. Scroll through the quips below and let us know your reaction to the work in the comments.
PHOTO GALLERY
The Best Twitter Responses To Bea Arthur's Nude Painting