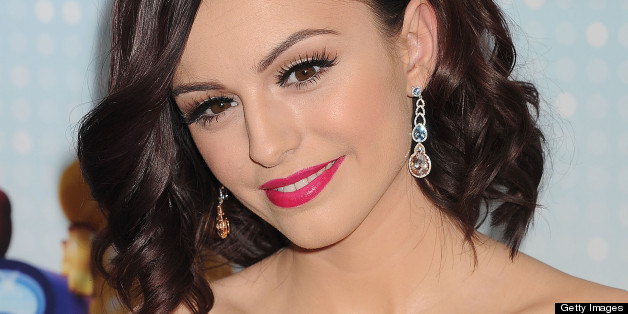 If you're listening to Demi Lovato's new album non-stop like we are, you may have noticed a certain vocal appearance on one very catchy breakup anthem. With her unmistakable British accent, it's difficult to miss Cher Lloyd on "Really Don't Care" -- rapping, no less.
When the former "X Factor UK" contestant isn't busy lending her talents to can't-get-this-out-of-my-head tracks, the singer has been in the studio working on her own material -- including a new album on the horizon. Cher caught up with HuffPost Teen on what it was like collaborating with Demi, who inspired her growing up and why she'd never go back to high school.
What was your favorite part about singing with Demi on "Really Don't Care"?
I can honestly say she's one of my favorite female artists out there right now. Just because she is so open. She's so honest and quite honestly, I've never said this before, but I really look up to her. I feel that although she's been through quite a lot, she's really pushed through and it's quite obvious that she has quite an amazing album on her hands. And I just really love her for being such a down-to-earth person. She's someone who my fans should look up to, too.
What was it like teaming up with Ne-Yo?
It's very exciting to get an opportunity like this. It's not normal for it to happen to someone like me. It took me by surprise, and actually meeting him was pretty amazing. He seemed like a really nice person and someone you could really get on with. He's easy to work with, which is rare to find. [Editor's note: They are creating a song together inspired by social media submissions from fans.*]
How will your second album be different from the first ("Sticks & Stones")?
I feel like everyone, every artist, favors their second record. That's because on the first one, you are experimenting -- you're trying out different things. It's all so new. But I feel like the second album, to me, is exactly what I wanted to do. If I wanted to curse or whatever, I could curse because I felt like it in the moment -- and it's something that I can really be proud of. I've worked so hard, so hopefully, fingers crossed, this album will be the one that makes me.
How would you describe yourself in high school?
I was very disruptive. I always had an opinion. I never really wanted to be in school and that's just the truth. I think many kids are like that, you know? I had some trouble in school. I didn't get on with people and I wanted to be on my own. But then when it came to music, I was able to shut the door and get on with my projects. That's why I feel that I passed. But school's difficult. I mean, if anyone said to me right now, "You have a chance to go back," I'd say, "No way."
Who inspired you growing up?
The person I've always said is my grandmother. I think to just watch your grandparents now and hear all the stories of what they've been through in their life and the struggles, and finding love and stuff like that, it just really inspires me. I could listen to my grandparents speak all day. I think it's very important for me right now to spend as much time as possible with them. I wasn't very into the "fame side." I wasn't very attached to anyone growing up. Nowadays, I see a lot of kids that are very attached to famous people, but I was never like that.
If you could collaborate with any artist, who would it be?
I feel like I've done quite a lot of collaborations and I feel like right now, for this moment, I possibly wouldn't want to do anymore. But if I had a chance to, it would probably be Nicki Minaj. And I've said that from day one -- just 'cause I feel like she's so different. She's got her own lane and nobody crosses into it and I really respect that. I just think she's very, very talented.
We love that you rap in addition to singing. How did you get started?
It kind of started off as a joke to be honest. I sat at my computer one day and I pulled up some instrumentals on YouTube and started messing around and writing my own lyrics. It became quite funny, 'cause I'd always do things that were quite funny. And then when I went on "The X Factor," I used that. I was kind of like, "Well, everyone else can sing, but is there something else I can do to make me stand out?" So I started out doing the whole rapping thing and it just carried out from there, really.
If you could go back in time and give your teen-self one piece of advice, what would it be?
I think it would be to think before I spoke, and to probably take the opportunities I was given. I don't think I made the most of my teen life. I didn't join as many clubs as I should have joined. I didn't join in on different activities because maybe I was embarassed or I didn't want to be involved, and I just wanted to lay around. But I think definitely just to take those opportunities and run with it.
What's the best part about being a teen?
I think the best part is to be able to have a bunch of friends and not have to worry about anything other than school. I think that there's something so refreshing -- and it's something that I really do miss. Your teen years are your best years. I think while you're a teen you don't quite realize that and you think that the whole world is against you and you have so much to do and it's such a hard life. But when you get to a point where you're working 24 hours a day, you really, really want that back.
*Cher and Ne-Yo's song creation is in celebration of the Fruttare Fruit Bars launch.

BEFORE YOU GO