A coyote puppy suffered what would have been a deadly encounter with a cholla cactus on Tuesday. Thankfully, three good Samaritans came to its rescue and their story is now going viral.
Gwen Maxwell of Sun City West, Ariz., discovered the coyote stumbling around her property Tuesday morning, according to AZ Family.
"I was shocked to see this little one tumbling over and over and over, covered head to foot with these little chunks of cholla," Maxwell, an 86-year-old retired school teacher, told AZ Central.
Story continues after photo.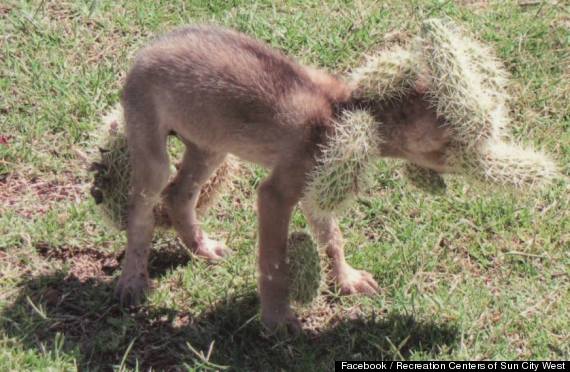 The pup then crawled onto the nearby Pebblebrook Golf Course, with Maxwell trailing behind and calling for help. A golf course maintenance worker, Jose Soto, and assistant superintendent Shawn Bordine came to the puppy's aid, the news site reports.
According to CBS Atlanta, the pair used pliers to remove the cholla cactus spines, which AZ Central reports were embedded at least a quarter of an inch into the puppy's skin all around his face and legs.
"As Jose held him, I was able to pull stickers out of his mouth," Bordine told CBS. "He didn't bite or make a sound."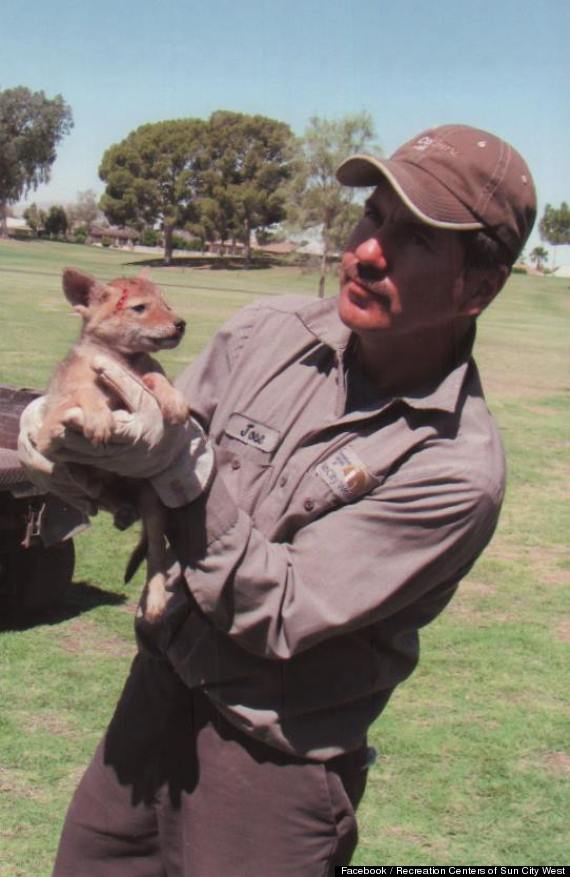 The puppy's mother hovered close by the whole while but miraculously didn't interfere while the men were treating him. "She knew what was going on," Maxwell told a local ABC affiliate, "They were trying to save her baby."
The coyote was soon reunited with his mother and four siblings thanks to Soto and Bordine, who ABC reports also rescued a young hawk last year when it fell from its nest.
H/T: msnNOW
BEFORE YOU GO
PHOTO GALLERY
Dog Survives 120ft Fall Off Cliff