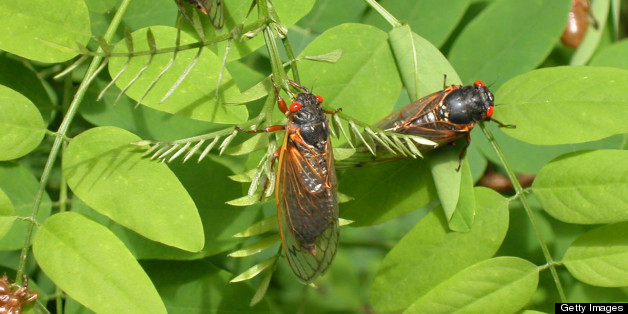 On Monday we made first contact. Now we've made second contact.
Since we first heard seventeen year cicadas were spotted in Northern Virginia, we experienced a few days of unseasonably cool weather, which may have held many of the cicadas back -- they wait until the soil 8 inches below the ground reaches a temperature of 64 degrees.
But fear not! With highs in the 80s the past few days, the ground has surely warmed and we've begun to see more and more of the two-inch critters.
While we are still waiting until we cannot drive our cars or walk our dogs without causing mass-bug-murder, some are licking their lips and preparing to chow down on those low-calorie, gluten-free cicadas invading our yards and parks.
We've pulled a few more of the best Twitter reactions and pictures of cicadas around the area:
It is inevitable:
Beneath you, the horde is still massing. Ready to overwhelm the world. #cicadas

— Jacob Harris (@harrisj) May 7, 2013
People deep fry EVERYTHING:
@kaneshow @internjohnradio You can eat them! Deep fried #cicadas twitter.com/Mrs_Ern/status…

— Erin Seagraves (@Mrs_Ern) May 17, 2013
Don't worry, cicadas do not feed on tires:
#WTOP #Stafford #Cicadas twitter.com/Hawk_nh/status…

— Jay Hawk (@Hawk_nh) May 17, 2013
Oh god, oh man, oh god
! They're everywhere!
They're Here!PHOTOS of #Cicada Sightings In #Virginia --- > on.wusa9.com/16prvc1 twitter.com/wusa9/status/3…

— wusa9 (@wusa9) May 17, 2013
It's always good to hear from both sides of the story:
Just had "the talk" about the birds and the bees...they're our natural predators and should be avoided if possible #staysafe #cicadas

— The Cicada (@TheCicadaSays) May 17, 2013
Giving literal meaning to "I'm kinda buzzed and it's all because..."
Every time I've seen this cicada GIF, I've imagined all the cicadas singing Montell Jordan's "This Is How We Do It." twitpic.com/coziw8

— Chris _ _ Richards (@Chris__Richards) May 8, 2013
BEFORE YOU GO
PHOTO GALLERY
What The Cicadas Missed In 17 Years