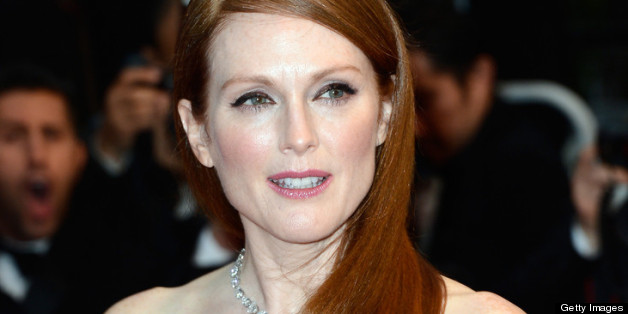 For Julianne Moore's character in "What Maisie Knew," marriage and motherhood aren't easy. But the role doesn't reflect her real life, she told the Associated Press in a recent interview in Cannes. Instead, she said, she has what she's always wanted: a healthy relationship with two kids she clearly loves very much. AP reports:
[Moore's new role] couldn't have been farther from her heart. [The actress], who has a 15-year-old son and 11-year-old daughter, said motherhood was something that came easily for her and a role she always craved since she was a little girl.

"I thought, 'I don't know if I will get married, but I do want to have children,'" Moore said in an interview on the opening day of the Cannes Film Festival. "I said, 'I'm going to have a boy and a girl.' You know, all those ridiculous fantasies that you have when you're 10 years old -– for me, the fact that that came true, it's kind of unbelievable."
AP adds that the actress planned to leave Cannes early to catch a school concert and another family event.
One can get a sense of Moore's connection to her kids from this charming video of the actress speaking to them on the phone after the Golden Globes earlier this year.
And in a recent interview with HuffPost Parents ,Moore discussed her children's book series, which stars a girl named Freckleface Strawberry. While the protagonist was modelled in part on Moore as a child, she said the books were inspired by her son.