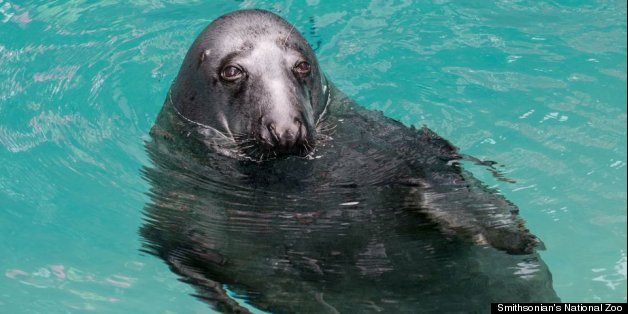 Gunther, Kara, Kjya, Luke and Squeegee have some new waterfront real estate.
We're talking, of course, about seals at the National Zoo who recently moved into new digs at the zoo's "American Trail" exhibit.
The five harbor and gray seals dove right in to the new exhibit Thursday.
Selkie, an elderly gray seal with a fascinating background in military intelligence -- no seriously! -- will move in with them in the coming weeks.
The exhibit is now open to the public. For those who want to check out the adorable seals in their new home, training and feeding demonstrations take place at 11:15 a.m. and 2 p.m. every day. For those who can't wait, we put together a slideshow of the "aww-inspiring" seals -- story continues below...

PHOTO GALLERY
Adorable National Zoo Seals In Their New Habitat
Zookeepers helped get the exhibit ready for the seals by adding 24,000 pounds of salt to the 125,000 gallon pool.
The renovations are part of a broader effort to help modernize the zoo -- which includes a $56 million "Elephant Trails" exhibit that opened in March.
Seals aren't the only of our fin-footed friends doing cute things.
When a little girl running along the sea lion enclosure at the National Zoo tripped and fell, a seemingly-concerned sea lion swimming along stopped, maybe to make sure she was okay?
Check out the video of the adorably concerned pinniped below:
The National Zoo is encouraging people to follow along with the seals and the sea lions on Twitter using the hashtag #PinnpiedParty.
BEFORE YOU GO
PHOTO GALLERY
Clouded Leopard Babies
PHOTO GALLERY
National Zoo Moms and Babies