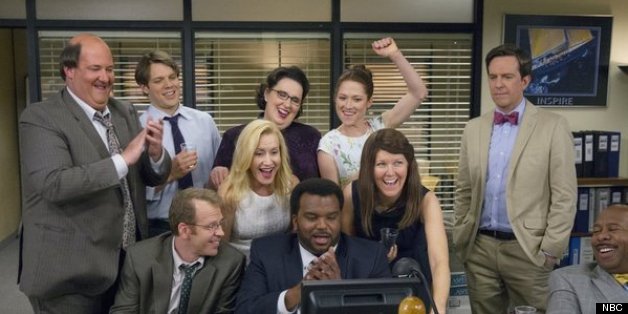 The series finale of "The Office" saw a lot of happy moments. Michael Scott (Steve Carrell) made a surprise return, Erin (Ellie Kemper) found her birth parents, and Dwight (Rainn Wilson) and Angela (Angela Kinsey) finally tied the knot.
NBC also got something out of the deal: "The Office" series finale brought in approximately 5.4 million viewers on Thursday night, scoring a 2.9 rating in the 18-49 demo.
Although once upon a time the series was averaging 9 million viewers, the "Office" finale saw season high ratings, with the Season 9 premiere bringing in only 2.1 million viewers.
Earlier this month, Brian Baumgartner (Kevin) told The Huffington Post that he thought the "Office" series finale was "the greatest episode of television" ever.

"I know that's a bold statement, but the reason I say that is because there was a plan for the end of the show for eight years," he continued. "Greg [Daniels] had an idea of what he wanted to do and how he wanted the show to end, and it plays out over not just the finale, actually, but the second to last and episode and the last episode was an idea he had from the very beginning."
If the "Office" finale ratings are any indication, it looks like Baumgartner was on to something.
PHOTO GALLERY
The Office Season 9 Photos
BEFORE YOU GO