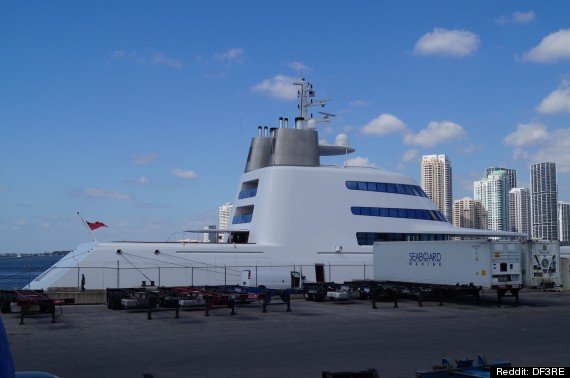 Is it a submarine? A spaceship? A luxury yacht?
Whatever it is, this curvy beaut docked in Miami is currently turning heads and making rounds from locals' Facebook pages to Reddit.
"Physically it is more a fish than a building," architect Philippe Starck said of the boat, which he and Martin Francis designed in 2008.
It's named M/Y "A" after its first owners, Andrei and Aleksandra Melnichenko, who reportedly footed the $300 million to have it built.
The 390-foot-vessel, which Starck calls a "stealth yacht," reportedly makes nearly zero wake at 25 knots.
Why the sneak attack? Because the boat was practically built for James Bond.
The master suite is encircled in bomb-proof glass and contains a king-sized bed that rotates at the touch of a button, according to the Wall Street Journal.
Elsewhere stingray hides line the walls and there are chairs made from alligator skins. There is also reportedly a hidden "nookie room" and there are rumors of a pod-like escape system. Watch the Wall Street Journal video above.
And before you try to sneak closer for a look, know that the fortress of a boat has 44 security cameras, over 12 exterior cameras, and a night-vision infrared system.
Better admire it from afar, as Miami resident Ilmar Saar did when he captured it slipping past South Beach: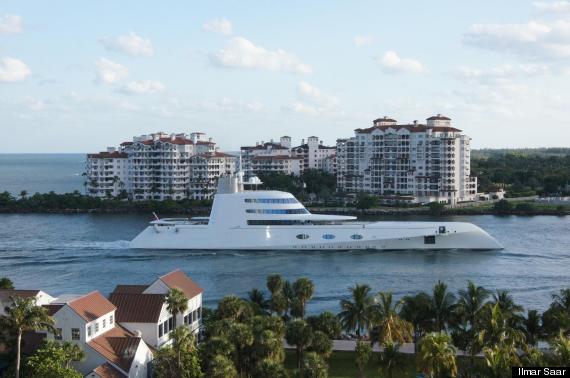 BEFORE YOU GO