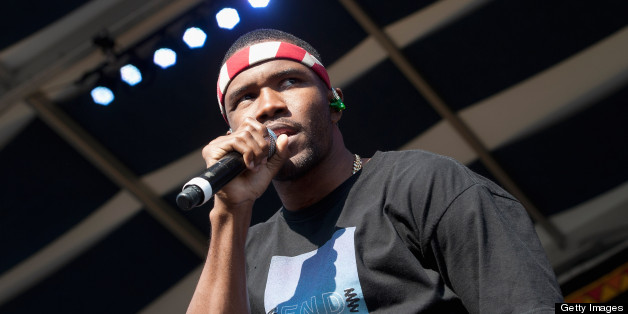 "The Bling Ring" features unruly teenagers robbing the homes of A-list celebrities, so it's only appropriate that the movie's soundtrack presents a lineup of A-list musical acts to underscore the glamorous film.
Sofia Coppola's highly anticipated feature, based on a string of true-life robberies that took place in the homes of Los Angeles celebs, premiered Wednesday at the Cannes Film Festival. The music used throughout comprises a fitting ode to wannabe glamor -- Kanye West's "Power," Sleigh Bells' "Crown on the Ground" and 2 Chainz's "Money Machine" are just a few of the tracks that round out the collection. A track from Coppola's husband's band Phoenix also made the soundtrack's shortlist.
Even more fitting is the song selected to close "The Bling Ring": Frank Ocean and Earl Sweatshirt's collaboration "Super Rich Kids." Part of the song's refrain finds Ocean singing, "The maids come around too much / Parents ain't around enough / Too many joy rides in daddy's Jaguar / Too many white lies and white lines / Super rich kids with nothing but loose ends / Super rich kids with nothing but fake friends."
The super rich kids, portrayed by the likes of Emma Watson and Taissa Farmiga, will steal their way into theaters June 14. The soundtrack has a June 11 release date.
Here's the track list:
01. Sleigh Bells – "Crown On The Ground"
02. Rick Ross [ft. Lil Wayne] – "9 Piece"
03. Rye Rye [ft. M.I.A.] – "Sunshine"
04. Azealia Banks - "212″
05. Oneohtrix Point Never – "Ouroboros"
06. 2 Chainz – "Money Machine"
07. M.I.A. - "Bad Girls"
08. Kanye West - "All of the Lights"
09. Ester Dean [ft. Chris Brown] – "Drop It Low"
10. Reema Major - "Gucci Bag"
11. Can – "Halleluwah"
12. Kanye West - "Power"
13. Klaus Schulze - "Freeze"
14. deadmau5 - "FML"
15. Brian Reitzell and Daniel Lopatin - "Bling Ring Suite"
16. Phoenix - "Bankrupt!"
17. Frank Ocean [ft. Earl Sweatshirt] - "Super Rich Kids"

BEFORE YOU GO
PHOTO GALLERY
Star-Studded Soundtracks