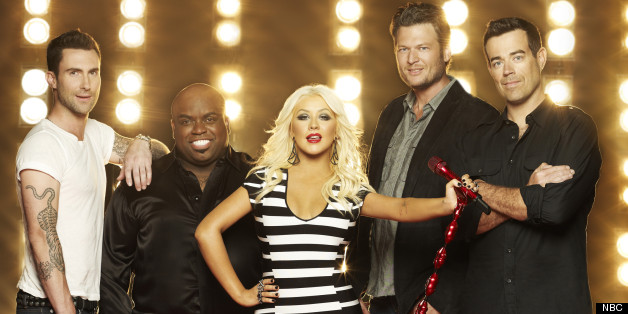 "The Voice" is officially bringing back Christina Aguilera and CeeLo Green for Season 5!
After weeks of rumors, NBC has officially announced that the original "Voice" coaches, who took a break for the reality competition series' current fourth season, will be back in the fall.
Adam Levine and Blake Shelton will also return for Season 5 and Season 6, which will see newbie coaches Shakira and Usher return after the Winter Olympics in February from Sochi, Russia.
"We locked in a plan several months ago to have the outstanding Christina Aguilera and CeeLo Green rejoin Blake and Adam for cycle 5, and we're pleased to announce that the original four coaches are going to be back together in the fall," said Paul Telegdy, president of alternative and late night programming for NBC Entertainment, in a statement. "They're the reason this show was launched so strong for the first three cycles and we owe them a debt of gratitude. And after careful consideration of everyone's schedules for next spring, we are excited to be returning the current cycle of judges -- Shakira and Usher along with Blake and Adam -- for cycle 6, which will premiere after the Winter Olympics."
Although Shakira and Usher have been popular with viewers -- and the show continues to dominate the ratings -- it was always expected that Aguilera and Green would retake their spinning chairs for the show's fall cycle, having taken a break to work on other projects.
Rumors of Aguilera's return to "The Voice" have been stirring this week. The Wrap reported that Aguilera was nearing a $17 million contract, the same amount she earned for Season 3 -- slightly less than Mariah Carey's reported $18 million for "American Idol" -- but a source close to the situation told The Huffington Post earlier this week that Aguilera's figure where somewhere nearer $12 million.
"As I have expressed since day one of the show, that I am a singer and performer first and I am so excited to get back to that love," Aguilera said back in September when she left "The Voice." "Since this year NBC and 'The Voice' have decided to tape back-to-back seasons, requiring a full-year commitment, it is important for me to take season four off, allowing me to support my music that my fans have been waiting for -- with the release of my new album 'Lotus' on November 13. By pursuing my first passion of music during the break, I am also able to come back and offer even more to my team on 'The Voice' in the future."
Green has also long expressed his desire to return to "The Voice." Back in December 2012, shortly after Season 3 of the NBC reality series ended, the coach stopped by "Today" and said, "Let's be straight about this, ladies and gentlemen: I'm not leaving 'The Voice.' I'll be back for Season 5. I'm going on hiatus. I'm doing a Las Vegas residency next year."
Green recently appeared on "The Voice" as a musical guest and is set to return for the May 20th installment as a mentor to Team Shakira while Shakira's original Season 4 mentor Joel Madden is filming "The Voice" Australia.
Shakira confirmed she was leaving "The Voice" earlier this week, telling E! Online, "It was a hard decision for me to make, because I'm really fond of the coaches, the people in production and everybody around me ... And I really enjoyed 'The Voice,' but I also have a musical career and I'm also a mother now and my poor baby's so tired flying such long distances." She added, "We'll see what happens in the future."
Are you happy to see Christina Aguilera and CeeLo Green back on "The Voice"? Sound off in the comments!
"The Voice" airs Mondays and Tuesdays at 8 p.m. ET on NBC.
BEFORE YOU GO