MIAMI -- So what does an All-Star shooting guard with a bum knee do when he has a night off during the NBA playoffs?
Go to prom, of course.
Miami Heat guard Dwyane Wade revealed Friday on his Twitter account that he, indeed, had taken up a YouTube prom invitation from Nicole Muxo, a senior at Archbishop Coleman Carroll High School.
Wade said after being called "a perfect date" on the YouTube video that he felt an obligation to follow up, so he did just that Friday night, showing up at the La Jolla Ballroom in Coral Gables and sharing a dance with the senior, meeting her family as well.
Wade posted on Twitter, "I had a blast at Prom" and "Never be 2 scared to ask."
(Story continues after photo.)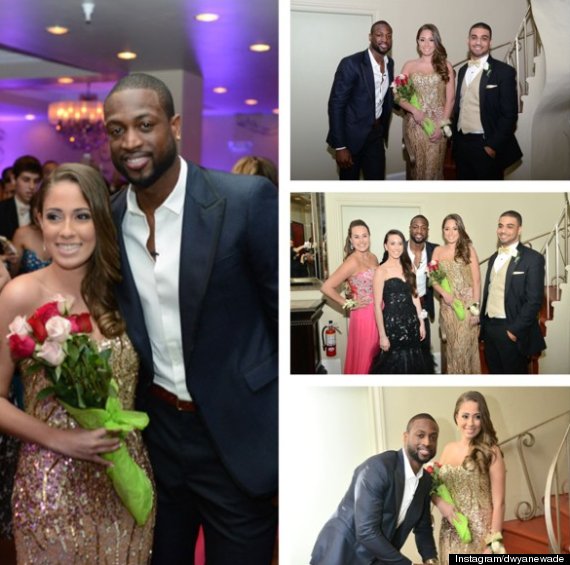 "I was so surprised, I didn't expect it at all," Muxo told WFOR, with television crews in place for the moment.
"She continued to keep going for it," Wade said of Muxo's persistence.
Muxo's actual prom date, Laurent Chaumin, complemented Wade on his prom attire, with Wade joking, "I'm the third wheel."
Wade said Muxo went as far as to direct message him on Twitter with her appeal.
"I'm going to remember it forever," Muxo told WSVN.
Wade then left to resume his knee treatment, with the Heat practicing earlier Friday at AmericanAirlines Arena, but given Saturday off by coach Erik Spoelstra in advance of Wednesday's start of the Eastern Conference finals at AmericanAirlines Arena.
WTVJ reported it wasn't the first time Muxo had attempted to meet Wade at an event, "Back when I met him last year, I asked him to homecoming, but the season was about to start, and he had practice, so he couldn't make it, so I thought, why not take another shot and ask him to prom?"
The irony is if the Heat had lost Wednesday's home game against the Chicago Bulls, a three-point victory that ended with two wayward 3-point attempts by the Bulls, Wade instead would have been playing Friday night in Chicago at the United Center.
iwinderman@tribune.com. Follow him at twitter.com/iraheatbeat ___
BEFORE YOU GO
PHOTO GALLERY
Dwyane Wade's Fashion Evolution