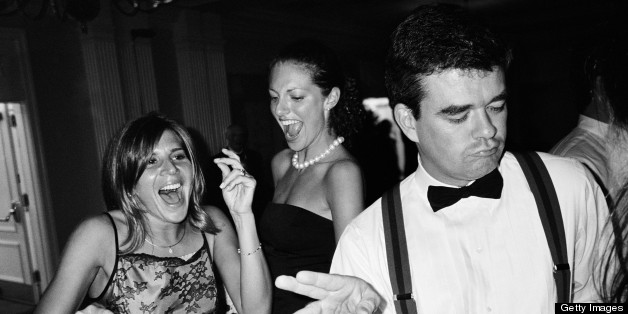 This article originally appeared on Martha Stewart Weddings.
Once you attach "black tie" to your Big Day, it changes things a bit. Suits get fancier. Dresses get dressier. But a formal affair is no reason to spin stuffy music, so we've picked 10 tunes that go along with a black tie evening, from cocktail hour to the last dance.
1. "I Get a Kick Out You" - Frank Sinatra
No matter your feelings on jazz, you've gotta have Frank playing at some point. This upbeat pick is a little less predictable than "The Way You Look Tonight," but let's be honest, you can't go wrong with anything sung by Old Blue Eyes.

2. "Your Easy Lovin' Ain't Pleasin' Nothing" - Mayer Hawthorne
The feel-good horns and lively melody on this throwback make it a no-brainer soundtrack to cake-cutting.

3. "L-O-V-E" - Natalie Cole
Sure, you may have sung this one in grade school as you were learning to spell, but that doesn't mean it won't have toes tapping during cocktail hour.

4. "Suit & Tie (feat Jay-Z)" - Justin Timberlake
Sometimes a song choice just writes itself. JT's latest offering is fun, funky, and infectious on the dance floor.
5. "Not Even The King" - Alicia Keys
This "we're-rich-in-love" ballad makes a sweet first dance song, and its piano backdrop and simple-and-sweet vocals are begging to be played at a sophisticated soiree.

6. "You're All I Need To Get By" - Marvin Gaye and Tammi Terrell
One of the best duets of all time. Period. The verses start out at a simmer and build into a chorus that'll have your guests happily singing along.


7. "Fever" - Beyonce
Peggy Lee made this diddy famous in the '50s, and in this sultry version, Queen Bey coos along to its signature snaps.

8. "They Can't Take That Away From Me" - Louis Armstrong and Ella Fitzgerald
It's impossible to ignore Ella in this category, and on this track, she and Louis Armstrong list off reasons for loving each other. Awww...

9. "It's Only A Paper Moon" - Nat King Cole
This jazz standard is a cocktail hour must that -- warning! -- might prematurely start a dance session before the floor opens officially.

10. "Fancy" - Drake, T.I., Swizz Beatz
Save this hip-hop anthem for later in the evening -- once grandma has turned in for the night -- because, really, who among us, after a few glasses of bubbly at a formal event, can resist a chorus that cheekily asks, "You fancy, huh?"
More from Martha Stewart Weddings:
How to Pose for Wedding Photos
Dos and Don'ts of Wedding Registries
Real Weddings We Can't Stop Gushing Over
The Most Unique (and Beautiful) Cakes Ever
Click through the slideshow below for great first dance songs.
PHOTO GALLERY
30 Awesome First Dance Songs
Keep in touch! Check out HuffPost Weddings on Facebook, Twitter and Pinterest.