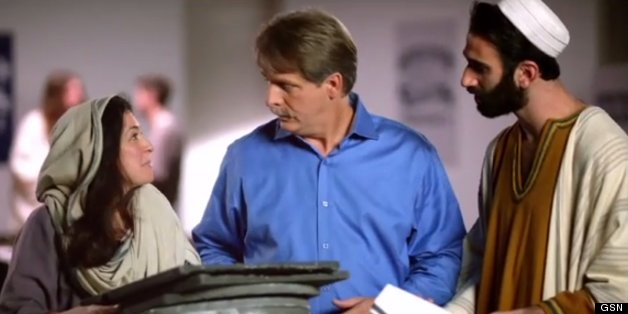 "The American Bible Challenge" is wrapping up its second season (finale airs Thurs., May 23, 9 p.m. ET on GSN) with the final three teams competing for the $140,000 prize for their charity of choice.
But it's not all fun and games -- there's also a lot of pretty risque God-centric humor coming from the writers and host Jeff Foxworthy, as shown in these two never-before-seen previews for the show.
Bible buffs know that Moses parted the Red Sea, but what's the modern-day equivalent for the guy dressed as Moses on the show? (An aside -- doesn't the bearded, jelly donut-craving man in the robe look a lot like Zach Galifianakis?) And yes, the 10 Commandments might've been written in stone, but this show's got some heavy tablets of their own.
Watch the previews, below, and tell us: Do you think the show's comedic take on teaching the Bible has made it such a success?
Moses parts the pastries: GSN commands us to watch the finale:
BEFORE YOU GO
PHOTO GALLERY
Summer TV Guide