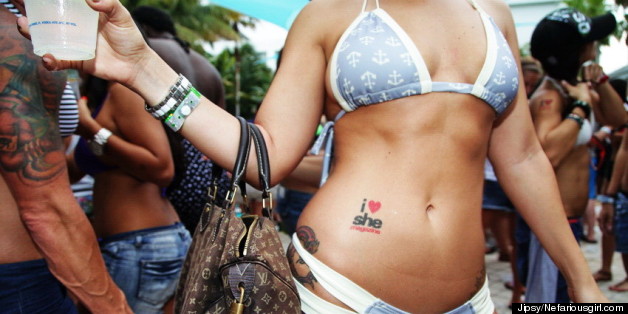 BY JIPSY, NEFARIOUSGIRL.COM
Last week, for the 14th year in a row, Aqua Girl kicked off its legendary week-long celebration to raise funds for the Aqua Foundation For Women, which helps ensure lesbian, bisexual, and transgender wellness and equality in South Florida. The most popular of the many events was the Aqualicious Pool Party, held at the recently renovated official host hotel The National.
This wet and wild party happens on both Saturday and Sunday. I ended up going to the Saturday party at the perfect time, around 2 p.m., and by then, the party was well on its way. Bumping and grinding, romance in the water, cocktail sipping and just letting off some steam and loving Miami was what this party was all about. With all the organized chaos, I found myself trying to work, but wanted to dance and also not get my camera gear wet which was the challenge of the day -- besides trying to not dance and work.
Women from all over the country were at this party, some for the first time, some staples since day one. New York City-based singer Jenevieve Cruz was in the crowd and several locals were representing Miami, but my highlight was meeting newlywed couple Angel Maclin and DJ Periodic, who are from Atlanta, Georgia and were married May 21, 2012 in New York City. They plan to celebrate with their families here in Ft. Lauderdale this May 31st. Congratulations, ladies!
Overall, this legendary wild party was exactly what it was supposed to be. Good times, dancing, flirting and supporting the Aqua Foundation For Women. See you ladies next year. -- Jipsy
PHOTO GALLERY
Aqua Girl 2013 Aqualicious Pool Party Photos