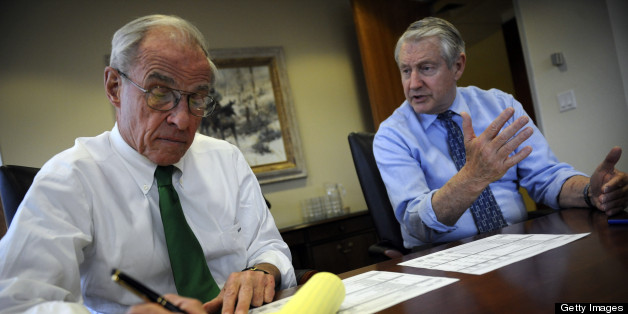 For the past seven years, Bolder Boulder race organizers have sent T-shirts, bib numbers and all the materials to put on a race to military bases -- and sometimes navy ships, too -- all around the world.
Since, about 16,000 servicemen and women have participated in satellite races and about 2,700 will be doing so this year.
But troops this year will get something extra in their Bolder Boulder package: An enrollment invitation from the University of Colorado's president.
CU Regent Steve Bosley, the founder of the Memorial Day 10K that has grown to 54,000 participants in past years, has teamed up with university president Bruce Benson to pitch the university to participating troops, sending a letter inviting them to apply when their service is complete.
The race and the university have a close partnership, Benson said. Runners cross the finish line in the football stadium, in front of a cheering crowd of 50,000-some people.
"We wish you could be with us in Boulder for the race but know you have other important duties to attend to," Benson wrote in the letter. "I wish you the best, no matter what part of the world you are serving in . . . When you finish your military service or as part of your continued career in the military, if your plans include college, please consider the University of Colorado."
Benson said all CU campuses welcome veterans and active duty personnel, offering special advising programs.
Roughly 650 student-veterans are enrolled on the Boulder campus. The university -- along with other colleges across the country -- is braced for a boom in veterans over the next couple years as soldiers returning from the wars in Iraq and Afghanistan take advantage of their post-9/11 GI benefits. Those benefits cover tuition and provide housing allowances and book stipends.Over the last decade, CU has been reviving some of its veterans programs and adding to them. For example, the university has offered a new Military Student Day to give those considering transitioning from military service to college a snapshot of campus life.
Bosley said that his daughter -- who served as a naval intelligence officer -- got the idea to start the satellite races for military.
When Bosley started the race in 1979, he didn't hold it on Memorial Day, hesitant it would come off as "too commercial."
"We tip-toed into it," he said.
The Bolder Boulder has a group of military members, current and former, that serve on an advisory board to help ensure that the race honors Memorial Day in the right way. The finish of the race is followed by a special Memorial Day tribute to honor the military.
Contact Camera Staff Writer Brittany Anas at 303-473-1132 or anasb@dailycamera.com.
Follow the Camera's Bolder Boulder coverage
Bolder Boulder Race Guide: Sunday, May 26
Top 2,000 Male, Female Finishers: Tuesday, May 28
Bolder Boulder Results Guide: Thursday, May 30 ___
BEFORE YOU GO
PHOTO GALLERY
Best Colleges For Veterans