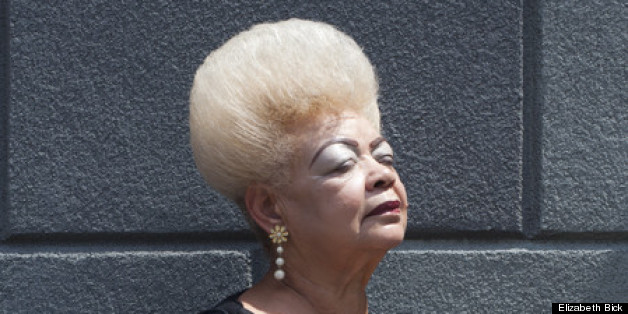 After seeing Leland Bobbé's photo series, 'The Women Of Fifth Avenue,' photographer Elizabeth Bick contacted us about her own series: portraits of the women of Bushwick.
Bick-- a native of suburban Houston who went to school in suburban New Orleans-- was accustomed to neighborhoods with little class diversity.
When she moved to Bushwick, she became "fascinated with living in a place undergoing the process of gentrification from one socio-economic class to another."
"I felt that I did not belong in an established community and I symbolized the denigration of it," she told HuffPost via email. "I also knew that the area was undergoing a resurgence of commerce, gentrification, and an overall 'cleaning up' of an otherwise rough area of NYC."
And then there were the women of Bushwick:
Aesthetically, Bushwick is not beautiful. I remember walking down Grand Street, thinking that the women photographed were the most stunning part of the neighborhood, especially in a certain light of day. The reminded me of the iconic shrines of Mary that are outside apartment buildings and store fronts. I began approaching them on the street as they went about their daily lives, asking them to pose. I wanted to connect their beauty with these established iconic hispanic religious aspect to the area, and decided to ask them to close their eyes and look away from the camera. The result creates a sort of saint likeness of each of them, beatifying them from themselves, their conditions in life, and the harsh industrial neighborhood in which they are photographed. At the time I was researching Spanish Inquisition painting, El Greco, and others from this period. I now store these pictures in a hand made Retablo, or devotional prayer box.
These photos Bick collected into a series called "Beatification (Bushwick, Brooklyn)." She sees the photos as a challenge to the way our society defines beauty, and a worthy counterpart to the botox and Bergdorf's-infused portraits of the women on Fifth Avenue:
Upon looking at Leland Bobbé's works, I was reminded of the women on the other side of the city. I have spent a lot of time watching women all over different neighborhoods throughout NYC, 5th avenue included, and women are an interesting subject as a reflection on a culture. America is THE image driven culture, and women are often the focus of this. I am interested in obstructing the ideological delinitation of what is beautiful and elegant to what isn't, and by photographic these women in this way, I feel I challenge every billboard we see in SoHo. Clearly, these women of Bushwick, no matter what their age or life circumstances, are aesthetically beautiful and important figures in an important culture that we should preserve and celebrate in artistic buzzing part of town.
Check out Bick's "Beatification" photos below, and below those, take a look at Bobbé's Fifth Avenue portraits.
PHOTO GALLERY
'Beatificiation' By Elizabeth Bick
BEFORE YOU GO
PHOTO GALLERY
Leland Bobbé's 'The Women Of Fifth Avenue'