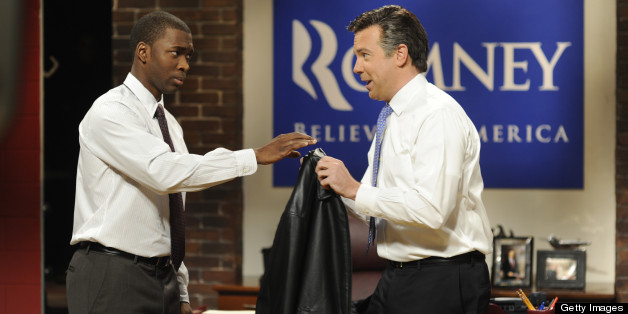 Jay Pharoah tweeted a fond farewell to his "Saturday Night Live" castmates Jason Sudeikis, Fred Armisen and Bill Hader on Sunday, but deleted his tweet shortly thereafter.
Although Pharoah deleted his tweet, it remains archived on Favstar.
"Hader, Armisen & Sudekis the talent of those three and just them as people in general will be missed but we will be strong and carry on..," Pharoah tweeted.
The tweet was interpreted by many as confirmation of rumors that Sudeikis and Armisen are leaving the show. Hader's departure was confirmed last week by The New York Times, and both Armisen and Hader acted in farewell sketches on Sunday's final show of the season.
Sudeikis' status is the least clear. The "SNL" stalwart wasn't waving goodbye with Armisen and Hader during goodnights on Saturday's season finale, nor was he featured in his own farewell sketch. Last week, the New York Post reported Sudeikis was "probably" leaving the show at the conclusion of the season.
It remains unclear whether Pharoah has any knowledge of Sudeikis' plans, or was just responding to the widespread speculation.
A rep for Sudeikis did not immediately respond to The Huffington Post's request for comment.
Story developing ...
BEFORE YOU GO