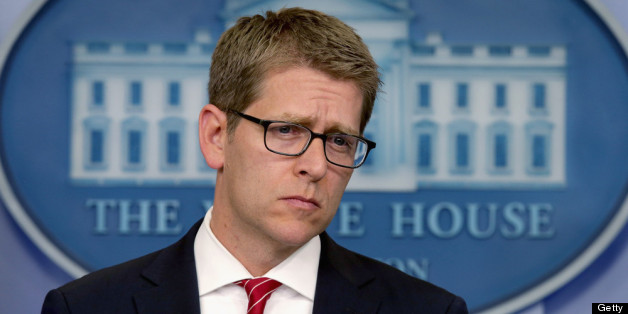 Jay Carney stepped into yet another tense press briefing room on Monday, parrying angry questions about The Washington Post's bombshell report that the Department of Justice targeted yet another reporter.
Last week, Carney navigated three government scandals including the ongoing hearings into Benghazi, the IRS targeting Tea Party groups, and the Department of Justice secretly obtaining months of phone records from at least seven individual AP journalists across 20 phone lines.
On Monday, the Post reported that the Justice Department targeted Fox News reporter James Rosen. The Justice Department suspected that Rosen spoke with State Department contractor Stephen Jin-Woo Kim for a story about North Korea's nuclear program. Kim was charged with violating the Espionage Act in August 2010. The Justice Department also kept tabs on Rosen's coming and goings inside the State Department and the timing of his phone calls with Jin-Woo. It also obtained a search warrant for the Fox News reporter's personal emails, which was justified by labeling Rosen "either as an aider, abettor and/or co-conspirator."
After addressing the IRS scandal, Carney was asked about Rosen. The press secretary echoed -- almost verbatim -- his comments from last week when asked about the AP scandal. He said the president was "a strong defender of the First Amendment and a firm believer in the needs of the press to obtain information." He added that the administration took leaks "very seriously because leaks can endanger the lives of men and women serving in uniform overseas." He pointed to the president's support for a federal shield law, legislation for which the administration asked Sen. Chuck Schumer to reintroduce last week.
Reporters tried to appeal to Carney's decades-long career in journalism, asking him how he could condone the Rosen investigation as a "former reporter." Carney refused to bite. When continuously pressed by CBS News' Major Garrett, he returned to his go-to response:
"I cannot, of course, comment on a specific ongoing investigation."
BEFORE YOU GO
PHOTO GALLERY
James Rosen Scandal