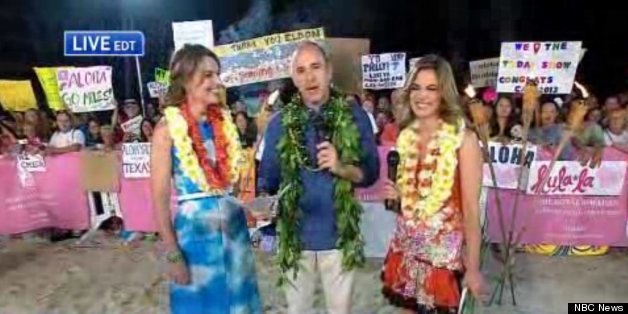 Sun, surf and sand. That was the story on Monday's "Today," which saw Matt, Savannah, Natalie and Willie in Hawaii.
The hosts hit the islands for the first day in their series "Great American Adventure," which will also include stops in Yellowstone, Chicago, Orlando and the Jersey Shore.
"We could not have picked a better location for Day 1 of our Great American Adventure," Matt Lauer said from the beach on Monday. The hosts took in all the sights, indulging in shaved ice and challenging each other to a canoe race (Savannah and Natalie beat Matt and Al handily).
It was dark when the show aired live at 7 a.m. EST or 1 a.m. in Hawaii. Back on the beach, "Today" held a luau. Willie joined Savannah and Natalie in dancing the hula, while Matt tried his hand at blowing a conch shell or the Pū as it's called in Hawaii. "I've got no Pū-blowing abilities," the host joked after making several attempts.
NOTE: This post has been updated to reflect that Al Roker was covering the tornado damage in the Midwest on Monday, though he appeared with the other hosts in segments filmed in Hawaii prior to the show's live coverage.
BEFORE YOU GO
PHOTO GALLERY
'Today' Hosts Through The Years