Blue Ivy Carter may be just 1-and-a-half years old, but she's already a queen -- at least in her parents' eyes.
Beyonce and Jay-Z's little girl took her rightful royal seat on the Mrs. Carter Show World Tour and Beyonce was kind enough to share the private moment on her Tumblr, Beyonce | I Am. In the photo, little Blue Ivy has her back to the camera, making the monogram on her tiny chair visible -- "B I C" (Blue Ivy Carter).
Nearly two months ago, Beyonce shared the first photo of her director's chair next to Blue Ivy's, and we're glad to see the tiny tot is making good use of it. We already know Bey has Blue Ivy join her on tour, since the famous songstress actually pulled her baby girl up onstage at one point in London.
Not to be missed is Blue Ivy's light pink princess tutu which she wears with a pink top and braided hair in the photo, proving that tomboy Blue Ivy can do girly, too.
PHOTO: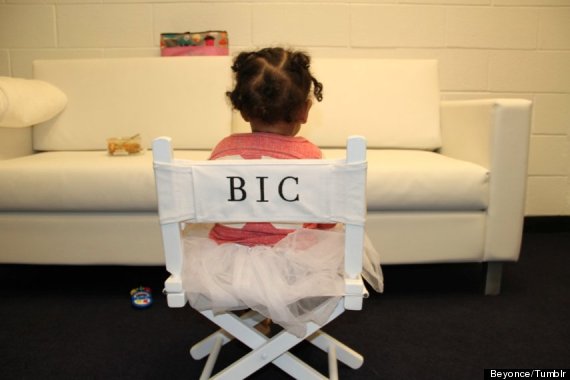 BEFORE YOU GO
PHOTO GALLERY
Blue Ivy Carter Turns 1