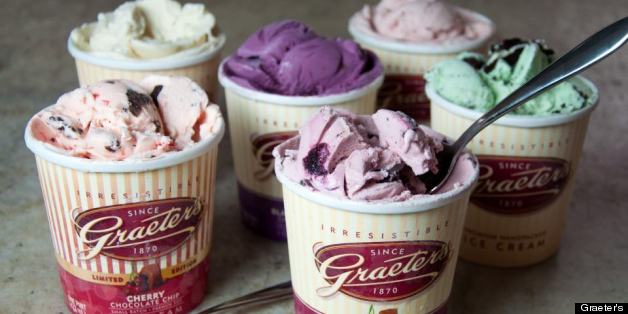 We love living in New York, but every once in a while, we meet a regional food specialty that makes us want to pack up our things and head to wherever it lives. Graeter's Ice Cream is one of those regional foods.
Graeter's is a Cincinnati original, founded by Bavarian immigrants Regina and Louis "Charlie" Graeter in 1870. After Charlie's untimely death, Regina took over the business, opening new locations and building a name for the business. Graeter's is still a family-owned and run business, and they still make their ice cream the same way Charlie and Regina did, using the French pot method -- a slow, small batch process (only two gallons at a time) that makes their ice cream rich, creamy and dense. This small, slow method isn't only responsible for the crazy creaminess of this ice cream, it's also responsible for making Graeter's chocolate chips completely different from everyone else's.
We'll be conservative and say that we could stare that ice cream swirling around the French pot for 45 minutes straight, but really it's probably longer than that. We got to taste Graeter's signature Black Raspberry Chip flavor, and we have to admit, we fell in love with the creaminess, the deep purple berry flavor and the randomly-sized, smooth as silk chocolate chunks throughout. We also got to taste a limited edition summer flavor, Summer Peach, which Graeter's will debut for National Ice Cream month in July (although Summer Peach will be available from June through August). To our great delight and surprise, this was not peach-flavored ice cream, it was ice cream with real peaches in it, and a total treat.
You guys have heard us gush about Jeni's Splendid Ice Cream before, which is based in Columbus, Ohio. We suppose, what we're wondering is this: Ohioans, how come your ice cream is so much better than everyone else's?
Want to read more from HuffPost Taste? Follow us on Twitter, Facebook, Pinterest and Tumblr.
BEFORE YOU GO
PHOTO GALLERY
American Regional Foods